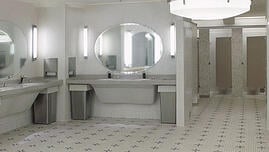 Restrooms are the areas in the building which require regular and thorough sanitation as more of us share fewer and smaller restroom spaces. A restroom that looks clean isn't always hygienic. It isn't good enough to only clean for appearance, as restrooms are breeding ground for germs and all kinds of microbes which can only be seen when put under a microscope. These microbes can multiply very quickly and if not dealt with immediately may cause serious long term disease with the potential to kill people. Therefore, it becomes important that we sanitize all areas of restrooms thoroughly using effective chemicals making it safe to use. Failure to have sanitized germs and infection free restrooms may result in fewer work days for your employees, due to illnesses and thus efficiency of your business decreases.
Depending upon the size and the number of restroom in your facility restrooms must be sanitized thoroughly at least once every day. Providing a clean, healthy work environment ensure good health of employees, visitors and customers. Cleaning for health in restroom minimizes spread of germs and can save you paying out sick leaves. One way to save people from being at health risks is to hire a restroom cleaning service that fully understand the importance and challenges that come with restroom sanitation. You can do this by hiring a restroom sanitation service that trains their cleaners to not only clean a surface, but also disinfect it. Surfaces such as door knobs, floors, light switches, toilet seats, toilet handles, sinks, dispensers, walls and partitions are the most germ infected areas which requires disinfection.
Disinfection is a process of eliminating microbes such as bacteria and viruses with the use of specially designed chemicals such as bleach. A recent study indicates that simply applying disinfectant on a surface will not kill any germs if the surface is not clean. Cleaning before the application of disinfectant is important too. To make the matter more complicated, all disinfectants require a certain amount of dwell time to work effectively. Dwell time is the amount of time disinfectants need to be in contact with the surfaces in order to kill germs. In this period, surfaces must remain wet to be effective. If it dries too quickly the surface will need disinfectant reapplied. Another option is to use a disinfectant with a longer dwell time.
A comprehensive approach is what is called for when it comes to restroom hygiene. In-house policies and procedures must be developed and followed to promote healthy work environment. You'll need to hire and train a dedicated staff to look after your restroom which can be very time consuming. If your cleaning is outsourced, then contracting a right commercial cleaning company is the key. A professional such as STATHAKIS can increase flexibility in housekeeping staffing solutions and save your money, as well as, provide training to it's restroom cleaners. It is important to regularly educate and trained cleaning crews with advanced procedures on using a range of disinfectants, equipment, and in chemical safely.
Restroom cleaning can make or break a customer's impression of a business. Clean toilet seats, shiny brite work, spotless sinks, and sparkling floors are what customer will remember after using your restroom facility. Their first impression is the one that will make the biggest impact - so make yours count! So make your count!