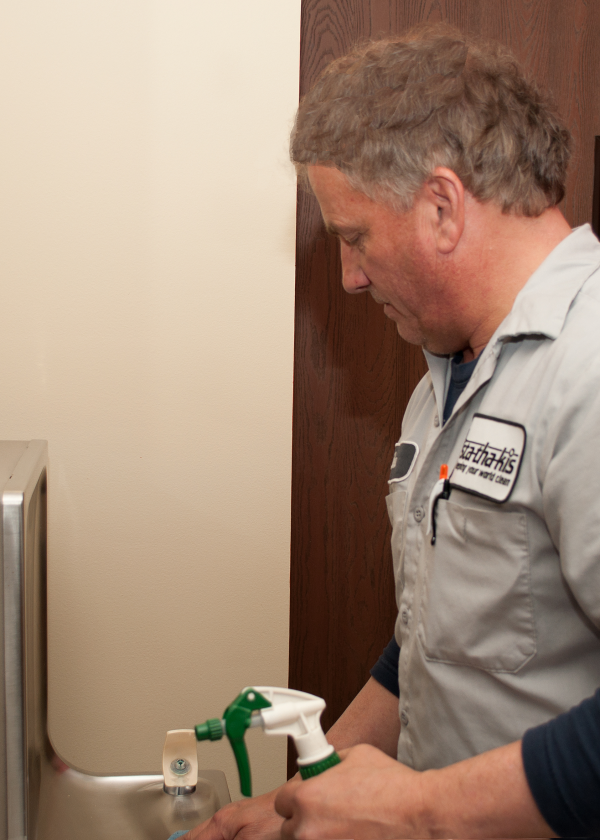 Professional office cleaning services verses the average cleaning companies.

Often when people think of "janitorial services" they think of a company that mops floors, vacuums carpets, and empties trash. Why your ordinary average janitorial company does all those services, it is the who is delivering those services that really makes a difference. Finding the right people and embracing them in a way that makes them motivated to do their jobs is the key to success in any business. The right people take pride in what they do, and the services they perform. The right people care about the appearance of your building. It has to be clean, receive customers, and functioning.
What can Stathakis' PEOPLE offer a business?
Maintaining the appearance of carpets, washing them, and spot removal.
Floor care, such as cleaning hardwood, laminate flooring, tile and more
Industrial floor cleaning
Cleaning the upholstery located within the building
Commerical restroom cleaning and stocking them with supplies
Window washing and cleaning
Housekeeping
Maintenance, Day porter, handy man services
Consultations
Emergency/ Disaster clean-up
Sanitation prevention services, to help ensure viruses like the flu and H1N1 do not occur or at least are limited.
Daytime services
The possibilities are limitless with a professional janitorial service that has the right PEOPLE.
What makes a professional office cleaning services like Stathakis stand out more than the average day porter, restroom cleaning or janitorial services?
At Stathakis, our PEOPLE take pride in their customer support and in everything that they do. Customer satisfaction is the number one thing they consider when working on a job. With their 10 minute response guarantee, one can see where they stand out above the rest when responding to customers' needs. In addition to their outstanding customer support, they provide customers with open book pricing, open book inspections, and open book management. Providing services that most companies would not find elsewhere in the janitorial service industry. Look no further, for cleaning and services that are professional, responsive, and good value, than Stathakis.