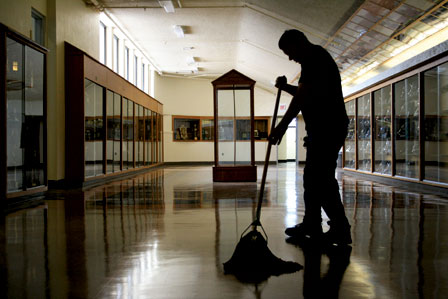 These days, more and more schools are choosing to outsource their janitorial services. The reason for this goes beyond the obvious financial savings. There are all kinds of benefits that result from the hiring of school cleaning companies. The main one being that outsourcing school cleaning can make your school a better place. With a separate company there to take responsibility for school janitorial services your teaching staff can concentrate solely on education.
Some further examples of the many benefits of outsourcing cleaning in schools include:
Reduced Costs: School cleaning companies are professionally qualified to handle all the incidentals that come with custodial work. For instance, procuring cleaning products and supplies at cost and managing custodial payrolls. They take care of these things so you can focus on being an educator.
School Spirit: The money saved from outsourcing school cleaning can be redirected straight to the classroom. Outsourcing enhances your schools maintenance as well as the overall educational experience of the student body.
Quick Response Time: When dealing with children, the only thing that one can predict is that the unpredictable will happen. With our 10-minute response guarantee, for example, you can be sure your janitorial service is on top of any situation.
Expertise: School cleaning, like any other industry, requires capable employees. Outsourcing school janitorial services can ensure that custodial employees have undergone extensive background checks and are well trained in their field, trustworthy, and dependable.
Flexibility: By outsourcing, you can freely adjust the amount of people on your janitorial staff as needed. For example, a cleaning service can send over extra help for the huge amount of clean up required after a big event, like graduation. Or the extensive job of preparing to open the doors for a new school year.
When
choosing a janitorial company
for cleaning in your school: do your homework! Not all cleaning companies operate on the same level. With the economic issues currently affecting the Metro-Detroit area, many fly-by-night custodial companies have been popping up in an attempt to make a quick buck. To avoid getting involved in a sketchy businesses situation and to find the best company for the job, research these important points when choosing a school janitorial contractor:
History: It's always wise to go with a reputable company that's been around for a good while. An established company is likely to be insured, certified, and have a clear and organized business plan.
Background checks: Only go with a school cleaning company that performs extensive background checks. You'd be surprised at how many companies neglect to take the time and effort to do this when such reports are essential for the safety and well being of your student body.
Environmental Policy: Janitorial work involves the use of many chemicals. With today's cleaning technologies, more cleaning companies are choosing to go green. For the health of the planet and your student body choose a cleaning company that respects the environment.
Testimonials: Network with other school principals or facility managers to get recommendations or critiques of their experiences with cleaning services. Or, ask for a referral from other companies your work with such as your HVAC contractor or food vendors.
Pricing: Getting the best value and the best service is what outsourcing is all about. Call around to different companies and compare their price offers, keeping all of the above tips in mind.
Remember: a clean school is a better school. Money saved though school janitorial services can be put back into the classroom, providing a value that transcends price.