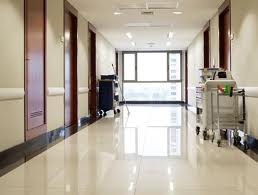 Cleaning in health care facilities is intensive and done more frequently with the use of a wide range of cleaning products and disinfectants. This is done to maintain a healthy and safe environment and to provide care and comfort to patients and their families. Cleaning can make or break a patient's impression of a hospital on quality of care without any additional health hazards. Concerns related to health of the user and the environment by use of traditional chemicals, has led us to bring "green" cleaners to table. Although some of us have been reluctant in opting green methods for cleaning. Therefore, green cleaning has been successfully taking off in most industries, but the healthcare industry is still lagging behind. Most of this is surrounding the use of disinfectants that are necessary to use in healthcare facilities which kill germs, so patients can stay healthy. However, cleaning a healthcare facility goes well beyond the use of disinfectants. Basically everything outside the use of disinfectants can be green compliant.
In the past, several studies have proven us that the health care workers who were exposed to cleaning products have had various health problems: 40% suffered eye irritations, 30% from skin irritations, 15% from asthma, and other respiratory problems caused due to the inhalation of toxic fumes. This has cost hospitals in loss of time at work, as workers were falling sick and productivity was lost. On the other hand, green products are made from natural ingredients: low allergenic, non-toxic, biodegradable cleaning agents. All green products are biodegradable.
Features of Green Products:
Non-caustic
Non-corrosive
Non-flammable and non-fuming
No petroleum
No chlorine
No ammonia
No phosphate
No dangerous acids
No caustic ingredients
What and where cleaning products can be used in health care facility:
As discussed earlier, most of the surroundings in health care facility demand the use of disinfectants to kill germs so that patients can stay healthy. Areas in any health care facility can be divided in three categories: Critical, Semi-Critical, and Non-Critical. Emergency and surgery rooms are critical areas that intensify the cleaning task. A disinfectant is what is called for by the law to use in these areas. Restrooms, nurseries, medicine storage, and clinics come in semi-critical, as they have a mix of areas where disinfectants and green products both can be used simultaneously. Last, but not the least, is non-critical: which includes admin offices which can be treated as any other business office. Green products can be used at all times in these areas.
Benefits of Green Cleaning:
Green cleaning was opted mainly to reduce the negative effect of chemicals on health care workers and the environment. Although when it was implemented, it has shown cost saving benefits to the different industries as overall cleaning cost, wastage, and storage was reduced to minimal amounts. In some cases, annual savings for facility managers went up to almost $20,000. This in turn was later used to reduce unnecessary use of chemicals by purchasing high performance, cutting edge technology-based cleaning equipments, and developing/regulating green cleaning policies and procedures.
More benefits can be derived from green cleaning by replacing traditional cloths, mop heads, and dusters with microfiber. This approach increases the life of the product and was seen to deliver a 50% cost savings. A study shows that using microfibers can reduce 95% of chemical costs associated with cleaning tasks and offer greater absorbency of soil (picks up more). Therefore 15% of labor cost and effort can be saved per day.
Successful Approach:
A comprehensive approach is what is called for in today's health care facilities. An approach that meets the eyes of the society as valuable healthcare facilities that delivers health care with safe and healthy environment by its effective cleaning. In-house policies and procedures must be developed and followed with respect to certifications such as ISSA, Green Seal Approved, and EPA.
If your cleaning is outsourced, choosing the right contractor is the key to making sure your cleaning scores are coming back satisfactory, once HCAHPS surveys are completed. A professional, such as STATHAKIS, uses Seal of Approval/Green Label certification as the standard for its chemicals and equipment. Systems such as Dilution Control, insure that the chemical is not overused during the mixing process. Also, at times we try to reduce the frequency of cleaning when possible, to reduce chemical usage.
-Free Cleaning Service Buyer's Guide