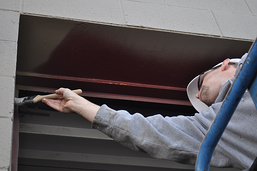 Materials like factory made aluminum, vinyl siding, composite decking, and fiber glass trim claim to be maintenance free. The advertisements argue that once any of these materials are installed you can almost forget them forever. They neither call for frequent maintenance or regular painting. But what if the user wants to paint them for some reason? According to the experts, this can be done.
People have been using colors to manipulate their moods or to freshen up the looks of an area. These maintenance-free materials surely could be painted most of the time, by following the right procedures, according to Debbie Zimmer, expert of paint and color, at Paint Quality Institute. Thus, painting tips for materials that could go many years without an extra coat of a paint, are in desirable need of the era for exterior and interior painting. The best option would be to hire some well known painting contractors. This would save a lot of time and effort on the part of those who work busy schedules and cannot afford an extra day wasted on a task better handled by a professional. Following are the points that should be kept in mind before using the paint on these maintenance-free materials:
Before painting, one should make sure that all the necessary repairs have been done.

The surface should be thoroughly scrubbed, rinsed, and cleaned.

Any mildew or mold should be removed before applying any coat of paint.

A water and bleach solution in a ratio of 3:1 respectively, could easily remove any mildew or mold. A thorough rinsing should be followed.

The last step before applying paint is to add a fresh coat of acrylic latex primer. The primer helps the paint stick better to the surface and thus provides a better finish to the color.
Maintenance free materials are often very smooth and slick, which means extra care is to be taken while painting them. Any ordinary paint, if applied without much care, could end up looking bad, along with deteriorating the quality of the maintenance free materials forever. The care that should be taken while painting the maintenance free material is as follows:
A top quality primer that is 100% acrylic latex should be considered for the job. This will allow the paint to have a better grip on the surface and therefore last longer with a better finish.

Top quality paint, preferably a 100% acrylic latex paint, could give the much needed durability to the color, along with the consistency and gloss.

The quality of the brushes and rollers used to paint the material should be of very good quality. This will allow the user to get a good, thick layer of the paint for better protective coating and appearance of the color.

The final thing that has to be kept in mind is the weather. The weather conditions should not be anything in extreme: like hot, cold, or windy. A simple warm, sunny day should be preferred for the job.
Stathakis, being a PDCA Accredited Contractor, has been providing the best quality painting services to its partners for thirty five years. Choosing a PDCA Accredited Contractor can help make sure you choose a professional company that subscribes to higher standards in the way they perform service.
The benefits of working with a PDCA Accredited Contractor include:
Pride in Results: Trained professional craftsmen using the right materials to give customers the job they want and deserve.
Great Value: Educated professionals know the latest materials and techniques to address your concerns about quality, longevity and the environment.
Peace of Mind: Assured compliance to ethics standards, health and safety standards and licensing and insurance requirements.
Minimized Risk: Standards created by industry professionals and legal authorities mean you know what to expect and can count on the results.
The Painting & Decorating Contractors of America (PDCA) have developed an accreditation that educates contractors in business operations, technical information and verifies vital credentials. George Stathakis has actively worked on the PDCA Commercial Forum to further the professionalism of the Painting Contractors Industry as a whole.
Accreditation is the voluntary approach for contractors to show they comply and exceed what consumers need to have for their protection. Accreditation is what you may equate to a painting degree!
To be accredited, contractors must first comply with mandatory prerequisite of ethics, quality, health and safety standards and demonstrate substantial compliance with industry standards in company operations. PDCA standards are the only painting & decorating standards recognized by the industry professionals to reflect the needs of consumers, the public at-large, and laws and regulations.
Just CLICK BELOW if you would like to talk to one of our Painting Experts.