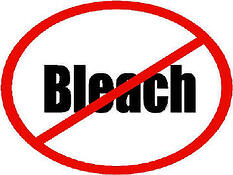 Bleach is used quite frequently and can be found in almost all household cleaning products. It has been proven to be a very strong, corrosive material and is also highly toxic. In commercial facilities, it can ruin carpets and be harmful to building occupants. Bleach, when mixed with other cleaning products, can end up being even more dangerous and toxic, creating fumes that if inhaled, could cause serious hazardous situations. It has the capacity to dissolve and kill all forms of bacteria, which is one of the main reasons it is widely used as a cleaning product.
Bleach contains very harmful chemicals that can easily cause second degree chemical burns if the product is being used in a concentrated form. Adding water to the product could reduce the hazardous nature to a great extent by diluting the product. Some of the harmful effects that are caused by bleach when mixed with ammonia or other cleaning products are as follows:
Shortness of breath

Headaches

Bloody noses

Nausea

Irritation to the throat, nose and eyes

Neurological disorder

Coughing

Wheezing

Chest pain

And even sometimes Death
The dangers of using bleach should not be undermined and should be particularly kept away from the reach of children. The harmful effects of the product cannot be eliminated nor the fact that even with its harmful effects, bleaches are still being used in most houses as a cleaning product. This calls for preventative measures. Even if the product is used on a regular basis, a few preventative measures, as mentioned below, could save some very fatal accidents from taking place:
Get yourself educated:- The fact that most of the accidents happen because of the lack of knowledge of few very simple things, call for proper knowledge of the product. You should always know what are the do's and dont's of the product that you are using.

Find better alternatives:- Bleaches are used for cleaning purposes, but they are not the only products that could be used for the task. For example, hydrogen peroxide could be used to clean the kitchens, to disinfect the cutting board or could also be used as natural bleach for teeth and for preventing mouth ulcers too.

Avoid contact:- While using bleach for household cleaning purposes, avoid as much as possible coming in contact of the chemical. Swallowing is strictly prohibited and if by chance the chemical comes in contact of the eyes, mouth or any other part of the body an immediate call to the poison control should be made.

Labels should not be removed:- Labels often contain most of the information of the chemical and so removing them should be avoided and safety instructions on the label should always be read before using the product.

Keep them out of the reach of the children. Lock the products in some cabinets that are out of the reach of children, when the products are not in use.
In a nutshell, bleach needs to be on the "banned list" of chemicals that a Facility Manager does not want inside their building. Today there are a number of bleach alternatives that clean and fight germs all while being environmentally friendly.
At Stathakis, an ISSA CIMS-GB certified janitorial company, we never use bleach or any such hazardous material for cleaning and janitorial services or housekeeping services. Reason being, is that we provide safe services to our customers.
CLICK BELOW TO DOWNLOAD OUR FREE WHITE PAPER



There are several simple steps to get more value from your cleaning company. These steps are easy to overlook so we have put them into one simple document that will become your main reference guide to managing the cleaning of your facilty.