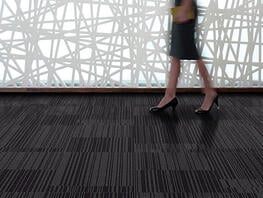 Studies have shown that when a room is carpeted, the chances of taking asthma medication is reduced to a larger extent for people in the room. Recent reports have been highlighting the fact that a poor Indoor Air Quality (IAQ) has had a very negative impact on the health of the occupants of a place (be it a commercial business or a personal house). It has also been focusing on the fact that proper carpeting has been known to reduce this negative impact and thus decreasing the level of airborne particles and the allergens that create health hazards.
Studies have shown that when carpets are properly maintained on a regular basis, they would have very good potential to maintain and improve the IAQ of a place. The fibers of carpets have some very amazing dust catching capacity. It only turns out rogue when the dust in the carpet itself has gone to a very high-level and could possibly not contain even a single grain of dust more. In such a position, the carpets might start releasing the dust caught in their fibers. This in turn, surely makes the place dirtier and thus the indoor air quality level depreciates, quite opposite of the task they were actually meant for. This fact is the main reason why carpets are meant to be cleaned on a regular basis, just like an air filter of a car or the furnace, and such.
The benefits that carpets have been known to provide to the human society are as follows:
Carpets create comfortable environment.

Carpets have a noise-reducing quality.

Creates an impression on the visitors or clients.

Companies could use carpet to create a brand image by matching it with the colors or surroundings of the brand.

Improves Indoor Air Quality.

Reduces dust particle and allergens from the air.

It could be used as a direction navigator.

Used to maintain the clean and healthy work environment.
The fact that most of the chronic illnesses in U.S. are caused due to asthma, the improvement in the IAQ is a much needed requirement of the time. Because clean carpets are the simplest way of doing so, they are being used to maintain the air quality. The main focus still should be on cleaning the carpet, or not having carpet, because in the end, nobody likes dirty carpet.
Cleaning carpets could be helpful for businesses to maintain the healthy work environment in the following ways:
The trapped pollutants in the carpet could be eliminated.

Infestations of the dust mites could be cleared.

Mold growth could be prevented.
Stathakis is an ISSA CIMS-GB certified janitorial company that has been helping companies keep their work environment clean. They offer cleaning and janitorial services and have thirty five years of experience in business cleaning and office cleaning.