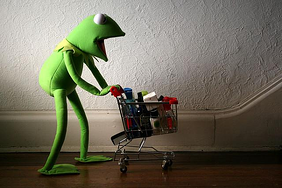 Remember the days when "green" was just a color, a song by Kermit the Frog, or the emerald mineral? Times were so much simpler back then. Today "green" has turned into an entire movement that is setting out to save our environment by making better use of the limited resources on this place we live called earth. As a Janitorial Company in Detroit, "Green" is also the most overused and least understood term today. Everytime the TV is on there is someone else, other than Kermit, claiming to be "green." Let's get some things straight about what "green" really is and is not.
"Green" is . . .
The choice to use less when presented the opportunity to use more.
An unselfish concern of the future.
Something you can't put back by purchasing carbon offsets.
Leadership in Energy and Environmental Design (LEED).
A lifestyle.
Behavioral change.
Anti-consumption.
Sustainability.
"Green" is not . . .
The choice to use more when presented the opportunity to use less.
Selfishly living in the moment to make energy resource decisions.
An electric vehicle to drive more.
A sticker that certifies a product that we don't really need.
Installing energy efficient lighting to illuminate more.
Recycling cans, bottles, and cardboard boxes from an endless flood of personal consumption.
Flying less.
When all summed up, green is a choice. The choice to change consumption habits of the past to make a better future. Do we really need to drive a car that gets 100 mpg when we could merely plan our days to drive less? How about drinking tap water from a reused bottle? Is it necessary to have exotic fruits and vegetables flown in from all over the world? What if we all just made one choice each day to improve the environment?
Here are some facts to help you answer those questions:
Americans spend 4.2 billion hours a year caught up in traffic at a cost of $78.2 billion a year in wasted time and fuel costs--$710 per motorist.
Let's look at how much energy goes into bottled water: In 2007, U.S. consumers purchased more than 33 billion liters of bottled water, or 110 liters (30 gallons) per person. The total energy required to produce 33 billion liters is equivalent to 32-54 million barrels of oil (although not all the energy used comes from oil). Energy to produce bottled water accounts for about one-third of one percent of total U.S. energy consumption.
According to the National Sustainable Agriculture Information Service, this distance has been increasing over the last fifty years, and now processed food travels an average of 1,300 miles.
Stathakis remains committed to the preservation of the earth's natural resources by creating, training, implementing, and sustaining environmentally preferable procedures. Stathakis is a janitorial company that is
ISSA CIMS-GB Certified
, which means that we already have everything needed to make your facility clean, green, and healthy. So "green" is really a choice, a choice that can start by contacting Stathakis.