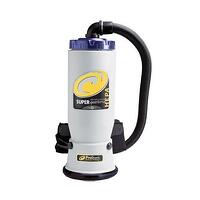 As a janitorial service working in multiple building environments every day of the year, here at Stathakis we take the topic of vacuum cleaners very seriously. There are literally hundreds of different brands that we could choose from , but Stathakis has been using Proteam Backpack Vacuums exclusively for more than 15 years. Proteam provides benefits that no other vacuum can match, and helps us to always meet and exceed the expectations of our customers.
One of the main reasons we use Proteam is because they simply do a better job of vacuuming. They capture far more dust than a traditional cleaner, extending the life of the carpet. That in and of itself is a tremendous benefit for both building owners and occupants. Folks in these building soon notice that dirt and dust don't settle in the corners anymore. But it's not just about looking better – it's about feeling better too. At Stathakis we are always cleaning for health. Nothing is worse than for people with asthma or allergies to have to spend their workday miserably breathing in various pollutants and irritants. By using Proteam vacuums, these problems often quickly become a thing of the past. Stathakis is committed to providing their customers with a healthy work environment.
Having a super efficient vacuum system also increases worker productivity. Here at Stathakis, our cleaning crews love the Proteam Backpack Vacuum. They are ergonomically designed to lessen stress on a person's back, and allows them and allows them to cover maximum square footage. They transition smoothly from hardwood floors to carpets, and glide into corners and under furniture with ease. We've found them to be far superior to upright vacuums, and they actually do a far superior job in less than half the time. This remarkable efficiency results in savings that we are then able to gladly pass on to our customers.
Another reason that we like working with Proteam is because, like Stathakis, they are a company with a strong commitment to the environment. We both recognize how important it is to "Go Green." Proteam's Super CoachVac HEPA and Super QuarterVac HEPA received a Gold Seal of Approval/Green Label from the Carpet and Rug Institute (CRI) for high standards of carpet cleaning effectiveness and indoor air quality. It also meets the requirements for the U.S. Green Building Council's LEED certification for green cleaning, which takes into account indoor air quality and energy efficiency to determine whether a cleaning system is truly sustainable. These are all important qualities that has made the Proteam Vacuum an important part of our ISSA CIMS GB Certification.
If you would like to see what a difference it makes to work with a janitorial service that always puts the customer first, using the best available equipment and staffed by competent, well-trained personnel, call Stathakis today. Let us show you how a cleaner, healthier building can improve the working conditions and productivity of all of your employees.