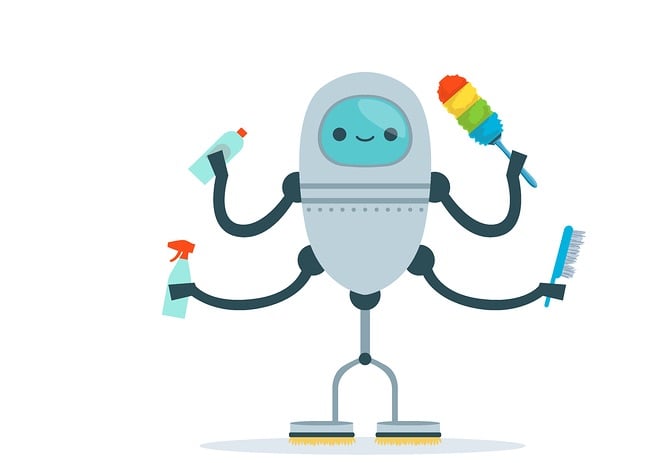 Science fiction fans have always looked to the future to provide us with technology that will make our lives easier and more interesting. Star Trek showed us a world of space exploration and strange new life, Blade Runner, a future with flying cars and massive skyscrapers, and Back to the Future, a way that we could finally go back and fix old mistakes. Now, we certainly are a far ways off of some of these groundbreaking inventions and our Smart dishwasher may be just a little less interesting that literal time travel, but that doesn't mean that technological advances an innovation cannot make your office cleaning services better, easier, more efficient, more affordable and more effective.
Innovation Makes for a More Effective Service
Advances in cleaning technology help modernize the commercial office cleaning experience giving you a smoother, more effective and certainly less stressful way to make sure your building is getting the service it needs. No matter what type of service or product your offer, it can be challenging or even feel impossible to find a professional, affordable office cleaning service provider. You shouldn't have to wait until flying cars finally make their appearance to get a Michigan office cleaner that you are happy with and that doesn't destroy your budget. Fortunately, with the right knowledge and tools, it is possible to quickly identify companies that are jettisoning into the future from those stuck in the Stone age. Why work with a company that lives in the past when you can have an office cleaning service that takes advantage of all the tech that the commercial cleaning industry has to offer.
Getting the Best Service With Modern Office Cleaning
Modern office cleaning bears little resemblance to the old tools of the past. No longer will little more than rags and mops get the job done. Scientific advances have pushed commercial cleaning into the 21st century and cleaning solutions and techniques are more effective and environmentally sustainable than ever before. There is no aspect of office cleaning that doesn't benefit from these innovations, whether it be floor care, green office cleaning, restroom cleaning, medical cleaning or carpet cleaning. No matter what kind of work you need done or what industry you operate in, cleaning services that take advantage of these technological advances benefit all involved. Not only do they provide a better clean but the resources and time that these newer techniques save put them at a competitive advantage by allowing them to provide a more affordable service.
Carpet Cleaning, the Prime Example of Innovation at Work
While we are a long way from the idealistic utopia presented in Star Trek, technological advances are pushing cleaning to the extremes of service, quality and affordability. Carpet cleaning is one of the best examples of how innovation is reshaping the Novi office cleaning world. These office cleaning professionals have phased out old less effective methods like Bonnet carpet cleaning for hot water extraction and the safer and less damaging low-moisture techniques like Whittaker carpet cleaning. Newer methods that rely on more recent innovation outperform older, dated methods in a number of ways. They use less water and cleaning solutions compared to other practices making them a greener, more affordable way to clean your office carpeting. Low-moisture technique means that carpets dry faster and you can have parts of your facility back to normal much faster. Hot water extraction and low-moisture carpet cleaning do not damage carpet fibers the way Bonnet cleaning will extend the lifetime of this costly asset. Companies that are committed to industry best practices rather than the status quo will always provide this service over hot water extraction because it is safer, more effective and more affordable.
Innovators Versus the Innovatively Stunted
No matter what area you work out of, whether it be Dearborn, Southeastern Michigan or Novi, a professional office cleaning company that embraces innovation rather than be scared of it can have quite a few things in common that make them easy to identify. So, what exactly should you be on the lookout for when looking for a prospective Detroit office cleaning service company?
Solid people practices: proper screening and training are the single most critical aspect of getting a solid service

Communication systems: if you can't communicate problems with your cleaning staff things are going to spiral out of control quickly

Innovation and embracing new technologies: a cleaning service that lives in the past can never compete with those that take advantage of innovation
These may seem like simple criteria for finding the best commercial cleaning companies but it isn't just the small details that make a service professional and reputable, it is the frameworks and systems they have in place to provide a solid customer experience.
Use the ISSA's CIMS to Separate Those Living in the Future From Those Stuck in the Past
The office cleaning marketplace is a crowded one and the vast majority of those potential service providers are still stuck in the 20th century of office cleaning. Fortunately, the ISSA's CIMS and CIMS-GB certification can act as a free and powerful guide to separate the innovators from those cleaning companies stuck in the past. The ISSA's, or International Sanitary Supply Association, CIMS certification is a robust and stringent industry specific accreditation that speaks directly to a company's values and adherence to best practices and a spirit of continual improvement and innovation. CIMS looks specifically at:
Quality Systems: A framework to ensure effective operations & continuous improvement
Service Delivery: Processes & systems in place to deliver consistent, quality service
Human Resources: Best practices for managing any service industry's greatest asset—their people
Health, Safety, & Environmental Stewardship: Ensuring regulatory compliance, workplace safety, and health and environmental management
Management Commitment: Establishing our Mission, Vision, and Values and ensuring that the organization's continuity is secured.
Of course, not every CIMS certified company is going to be the right fit for your building, but all of them are capable of providing a professional, responsive and affordable service. Use CIMS to quickly sort through companies so that you are only left with the best the industry has to offer and companies that will help you take your facility maintenance and office cleaning into the future and beyond.