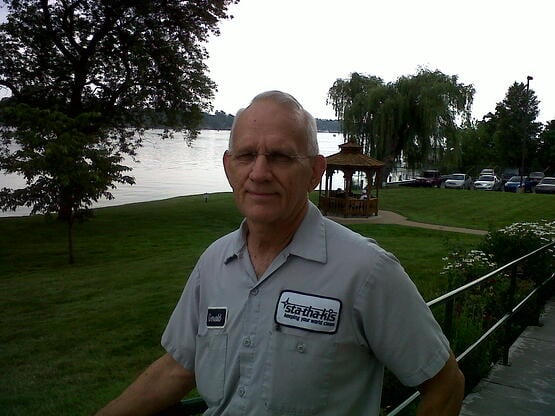 "Jerry is just one of those guys that everyone likes," says Dennis Stathakis, "I hired Jerry in 1995 and I wish I had twenty more guys just like him." That ringing endorsement is for our very own Gerald Garnett, a full time maintenance technician at the CSI Trenton Senior Citizen Co-op.
Jerry worked all of his life finally choosing to retire from the grocery warehouse where he worked in 1992. "Retirement didn't suit me, I think I just really enjoyed working and I liked the routine of getting up and having somewhere to go and something to do," says Jerry.
So in 1994 he inquired with Dennis Stathakis about possible part-time work. "I told Jerry that I only had this full-time position at CSI and how about he take that and when a good part-time opportunity came in, I'd give it to him." Jerry started working at CSI Trenton Senior Citizen Co-op and before long, he told Dennis he'd like to stay on at full-time because he really liked it there, liked the facility and the people. That was more than twenty years ago.
Dennis tells us, "I think Jerry really likes it there and I know they really like him. He treats the place like it's his own home." With over twenty years under his belt, CSI probably does feel like a second home. Jerry's day-to-day routine caring for the Trenton Co-op is pretty typical. As Jerry himself notes, "I come in in the morning and like to check everything out. Then I go up and check the air conditioners and blowers making sure all that looks good. Then I start the routine cleaning keeping an eye out for work orders or emergencies."
CSI is a senior living coop with 208 apartments for adults 65+ so there is no shortage of work to be done to keep everything running without a hitch for the residents. "I like to fix things and make things look neat and clean," says Jerry, "I get satisfaction when everything is running smoothly." And smoothly it does run, Jerry has been a fixture at CSI for longer than most and residents and employees alike have always had so many great things to say about him.
As VP of Operations Dale Saylor tells us, "Jerry is a highly respected member of our maintenance staff and has been with Stathakis for over 20 years. He has been a dedicated employee at Trenton Tower for many years. If there's one customer I don't have to worry about having any problems, it would be Trenton Tower, not while Jerry is on the job. Trenton Towers couldn't find more good things to say about Jerry's work and dedication than they already have, and neither can we here at Stathakis."
Dennis Stathakis says, "Jerry is humble which might be surprising because he doesn't need to be, he's really good at his job. Not only that, he has a great attitude, friendly, unassuming. Everyone in that building loves him. Great people like Jerry make things run smoothly. I don't think I could ask him to do any better when it comes to representing the best of what Stathakis offers our customers."
For his part, Jerry says that Stathakis has been a very good company to lay down roots with. "They are easy to work for, you know, they support you and trust you to do the work." Of course, when you are someone as humble and hardworking as Jerry, it's probably easy to trust you. "When I talk to my grandkids or even someone maybe entering the business now, I tell them do a good job whatever you do. When people like you and trust you, they are happy to help you out or do you a favor. That means something and it always will."
Jerry has been married to wife Charlotte for the past 51 years and they have three daughters, five granddaughters and one grandson. "Yes, I do have a lot of women around me, "Jerry laughs, "but I love them all, my family, they make my life what it is and make it all worthwhile."