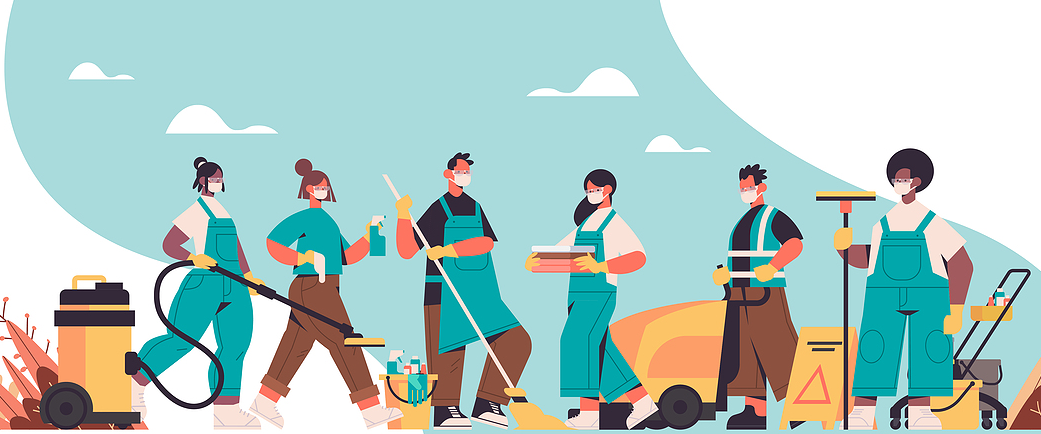 Office Cleaning is Changing Forever
Office Cleaning is changing forever as employers, in light of the coronavirus, face an uneasy workforce as they work to reopen businesses. With so much still not understood fully and unknown risks, it can feel impossible to adequately protect your staff and customers. The best option is to operate on the data and metrics that ARE available and work in tandem with a reputable, professional disinfection service to give ourselves an edge against the encroaching virus. There is no great time to work with an office cleaning service that is mediocre but a coronavirus pandemic is certainly not the right time to settle. With so much at stake, here are some solid suggestions for finding office disinfection services that deliver on their promises.
Mitigating the Risk of the Unknown by Acting on What we do Know
COVID-19 has created an immense amount of uncertainty in the workplace; with the ever evolving guidelines and information on the virus, it can be difficult to feel that we can protect our staff and customers from the risks associated with infection. That is why it is absolutely critical that we use the information that we do have and implement the safeguards that we know mitigate risk. There are any number of risks that we have yet to discover, so we need to be doing everything in our power to reduce the risk of what we do know. Proper implementation of CDC and EPA guidelines helps provide a safer, healthier workplace. Do not live with unnecessary risk - now is the time to partner with an office disinfection service that is going to take the health of your building seriously and implement the industry best practices to combat the threat of coronavirus.
More Rigorous, Timely and Effective Office Disinfection Programs are a Must During a Pandemic
The COVID-19 virus can live on a hard surface for nearly three days at a time and be just as infectious as when it first got there. In facilities with high traffic, however, it can only take a few hours for your building to become a nexus of disease and illness. Regular cleaning and disinfection of high traffic areas and touch points is critical to reducing the number of potential transmission vectors in your facility. That is where a professional office cleaning services can make all the difference. Not only can regular cleaning drastically reduce the chance of infection, it also shows your staff and patrons that you are taking their health concerns seriously. Now is not the time to take a risk with a subpar cleaning and disinfection service provider - work with a professional office cleaning company to get a more tailored, responsive and effective cleaning program designed to combat the spread of the virus.
What a Professional Office Disinfection Service Offers


There are many metrics by which to judge the merits of a disinfection service and there are a couple of key areas critical to the function of a proper cleaning service. For instance:
A coronavirus response plan: It is impossible to completely eliminate the risk of infection in a building. The best cleaning services recognize this and come prepared with a plan to handle an outbreak in your building that limits infection without impacting the overall function of your building. Preparedness is key to preventing a patient zero from infecting every one of your staff and patrons.
Usage of the correct techniques and chemicals: Good intentions do nothing to safeguard your facility, your commercial office cleaner needs to be using the appropriate techniques and chemical disinfectants to eradicate the virus from your building. Proper disinfection starts with using a List N chemical disinfectant, a document of proven COVID-19 killers, in your facility. Then comes using the appropriate technique to make sure they get the job done. Many chemical cleaners come with a manufacturer recommendation on how long they need to be on a surface to properly disinfect it, often called dwell time.
A history of health based cleaning practices: The best commercial office disinfectant companies didn't start health based cleaning once COVID-19 complicated everything. The best companies are those that have experience and those that have demonstrated a willingness to put health first even when health and safety did not require it.
Office Cleaning Services You Can Count On
Stathakis is here to disinfect your offices so that you and your staff can rest easy knowing that industry professionals are on the job. Not only do we provide a comprehensive office disinfection service, we have been using data-backed, health driven practices for decades. We know how to tailor our service for the needs of your building and set the bar when it comes to CDC and EPA standards. Don't settle for less than your facility needs, now of all times is the one to invest in a disinfection services that deliver. If you are looking for a new commercial office disinfection service provider or simply are looking to explore your option please feel free to contact us for a no obligation consultation.