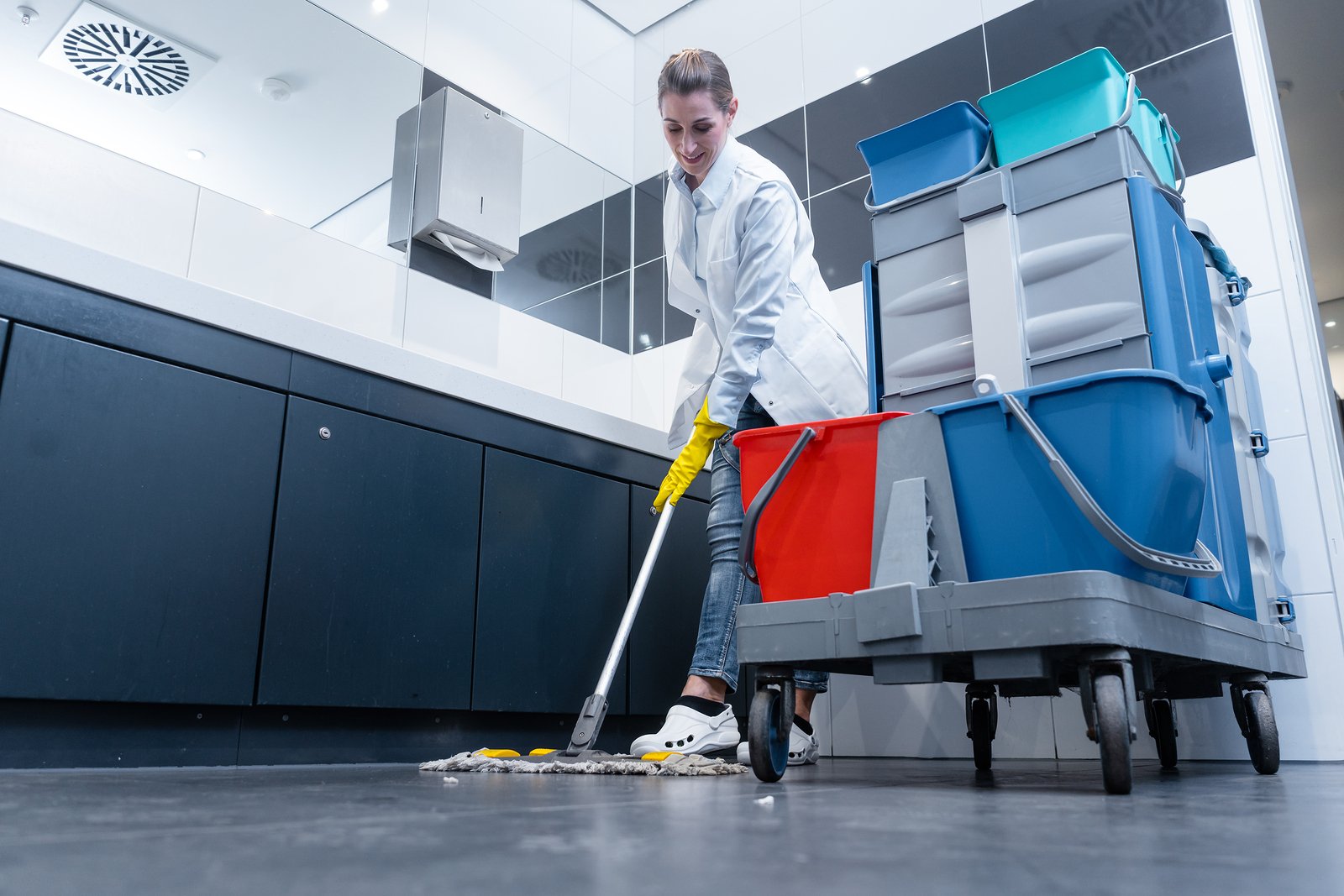 The Message Your Restroom Sends about Your Office Cleaning Services
A well-cleaned restroom is one of those things we take for granted until we are faced with the reality of using a restroom that is less than clean. And in your facility, you might not get the opportunity to visit restrooms and see for yourself just how much your office cleaning company measures up. It can be all too easy to overlook subpar office restroom cleaning, but be sure that your employees, tenants, visitors and customers are NOT overlooking it.
The restroom is one of the most critical areas of your facility for creating a good overall impression of your facility, company, practices, and staff to your customers. No one wants to walk into a restroom with overflowing trash cans, empty toilet paper rolls or the noticeable stench that can be among the telltale signs that your restrooms are not being adequately cleaned. If your office cleaning service isn't sufficiently cleaning your restroom and making sure that they smell clean and fresh and are constantly stocked, your restroom is going to impart an overall negative impression to the people in your facility.
How do you know if your restroom is giving people the wrong idea? Consider asking yourself a couple of important questions. Is the restroom consistently stocked with towels, toilet paper, soap and any other necessary amenities? Are the stalls dirty, damaged and/or have any type of graffiti or gunk on them? When you walk into the restroom, is there an obvious, unpleasant odor? Does everything seem to be perpetually damp, especially your floor and countertops or visible water collected in places? Are mirrors clean and free of water spots, smudges and worse? Is the floor inside and outside the stalls clean and free of any type of grime, build up, dust, debris or stains?
Professional Office Cleaning Must Include Professional Restroom Cleaning
Everyone likes walking into a restroom that is clean and smells fresh, but as far as your bottom line goes, do clean restrooms really matter? The answer is yes and it matters more than you may think. What are the real costs of poorly maintained restrooms? Obviously we all want a clean restroom simply for the fact that it is less unpleasant and more hygienic to use. But how much does having dirty or less than effectively cleaned restrooms really hurt your business?
There are a number of hidden costs that come with not giving restrooms the attention they need. First, poorly cleaned restrooms are a breeding ground for bacteria and can make your employees ill increasing turnover and absenteeism. Second, a lack of clean restrooms has been tied to lower rates of employee satisfaction. Third, insufficient restroom maintenance will reduce employee productivity and increase worker apathy. Simply put, failing to keep up with your restrooms is going to put a significant dent in your overall business and bottom line.
The Restroom Checklist to Keep Your Office Janitorial Service Checked In
No one wants an office cleaning company that is checked out. So how do you make sure your office cleaners are checked in? A restroom cleaning check list! Now, if your office cleaning company is already performing up to your standards, they probably don't need a list. But if you suspect that your office cleaning service isn't up-to-par there are a number of things that you can check to evaluate them and help get them back on track. At least by communicating your needs with your office cleaning company you can figure out if the partnership can get back on track or if it is time to start looking at different office cleaning companies. Here are the core areas that we feel any Michigan cleaning service should be focusing on to keep your restrooms looking their best:
Your restroom can't reek of toilet odors, toilets and urinals must be cleaned well and often to assure a fresh, clean smell.
Urinals need to be sufficiently cleaned including being wiped down, cleaning handles, screen and replacing the urinal block regularly.
Office cleaners need to observe manufacturer recommended dwell times to make sure their chemical cleaners are clinging to surfaces long enough to be effective at eradicating germs.
If your cleaning company isn't using best practices, what are they doing? Using the right chemicals, agitation and extraction can insure that walls, toilets, sinks, urinals, mirror, floors are completely clean.
Mirrors should be clean, spot free and lint free, and shiny corner to corner.
Your office janitorial service provider should place a heavy emphasis on "hot spots", "high contact", and "touch points" to drastically cut down on the spread of infectious pathogens.
Hard to reach areas such as the backs of toilets need to be cleaned regularly in order to cut down on grime and odor.
Trash receptacles need to be emptied regularly, the general rule of thumb is that they should be empty before they are full, not after.
All consumable products should be regularly restocked and monitored so that they never run low or run out.
No one likes mystery moisture. All surfaces that can get water or other liquids on them should be regularly cleaned and buffed so that they don't have any liquid staining and aren't sticky.
The vents should be cleaned regularly.
Maintaining restroom partitions so they are free of the three G's—grime, gum and graffiti.
The restroom should be regularly inspected to make sure that fixtures, paper and soap dispensers, as well as toilet paper dispensers are in working order.
Make sure that all the light bulbs are in good working order.
Details are as important as the core cleaning, the corners, baseboards, and ceiling all need to be kept clean.
Feminine hygiene dispensers should be cleaned and restocked with new liners put in place as needed.
The restroom needs undergo periodic deep cleaning in order to keep issues from piling up and to help protect your building assets.
Any grout and tile lines should be clean.
After every cleaning the restroom should be visually inspected to note any follow up cleaning or maintenance.
Using effective, quality adds to both quality and efficiency.
The restroom cleaning supplies should always be well stocked, organized, and stored with proper labeling and safety procedures in place.
The cleaning equipment needs to be properly maintained, stored, repaired, and replaced as needed.
Restroom Cleaners Must Be Truly Professional
Today's science has shown us that we need to go a little further than just surface cleaning in our restrooms, especially office restroom cleaning where restrooms see a great deal of traffic. Companies that are stuck in the past and that ignore industry best practices, systems, and equipment are in no position to keep your office restrooms healthy, clean, safe and looking their best. With dramatic improvements in cleaning products, equipment and methods, we can now expect cleaner restrooms faster and for less money. If your commercial office cleaning company isn't delivering on their promises to you, you aren't getting the quality or value you and your facility deserve. If they aren't using the restroom checklist, have poor recruitment and training programs or are generally inexperienced, it's time to start looking for a new commercial office cleaning service provider. You owe it to yourself and your restrooms to have a more responsive, customized commercial office cleaning service.
Commercial Office Cleaning Services That Deliver
Not only are clean restrooms good for your reputation, but they promote a healthy, productive atmosphere. The good news is the office cleaning marketplace is jammed with different companies to pick from, the bad news is there are a lot of duds in the mix. So how can you tell the difference between the professional and the less than professional without wasting hours of your time on a seemingly wild goose chase?
Your best option is to look for those companies that offer a transparent a clear price coupled with a site inspection. Your can then look at how said companies hire, train and retain their staff. The office cleaning industry is a service industry, the quality of the work you receive is entirely dependent on the type of people doing it. Finally, relevant industry certifications can be a great way to see which companies are just average and which go above and beyond.
The ISSA's CIMS and CIMS-GB certification are rigorous and stringent industry accreditations that demonstrate a company's willingness to not only match but surpass the industries best practices. Looking at such certifications can be your first line of defense against companies that are going to leave your restroom cleaning lacking.