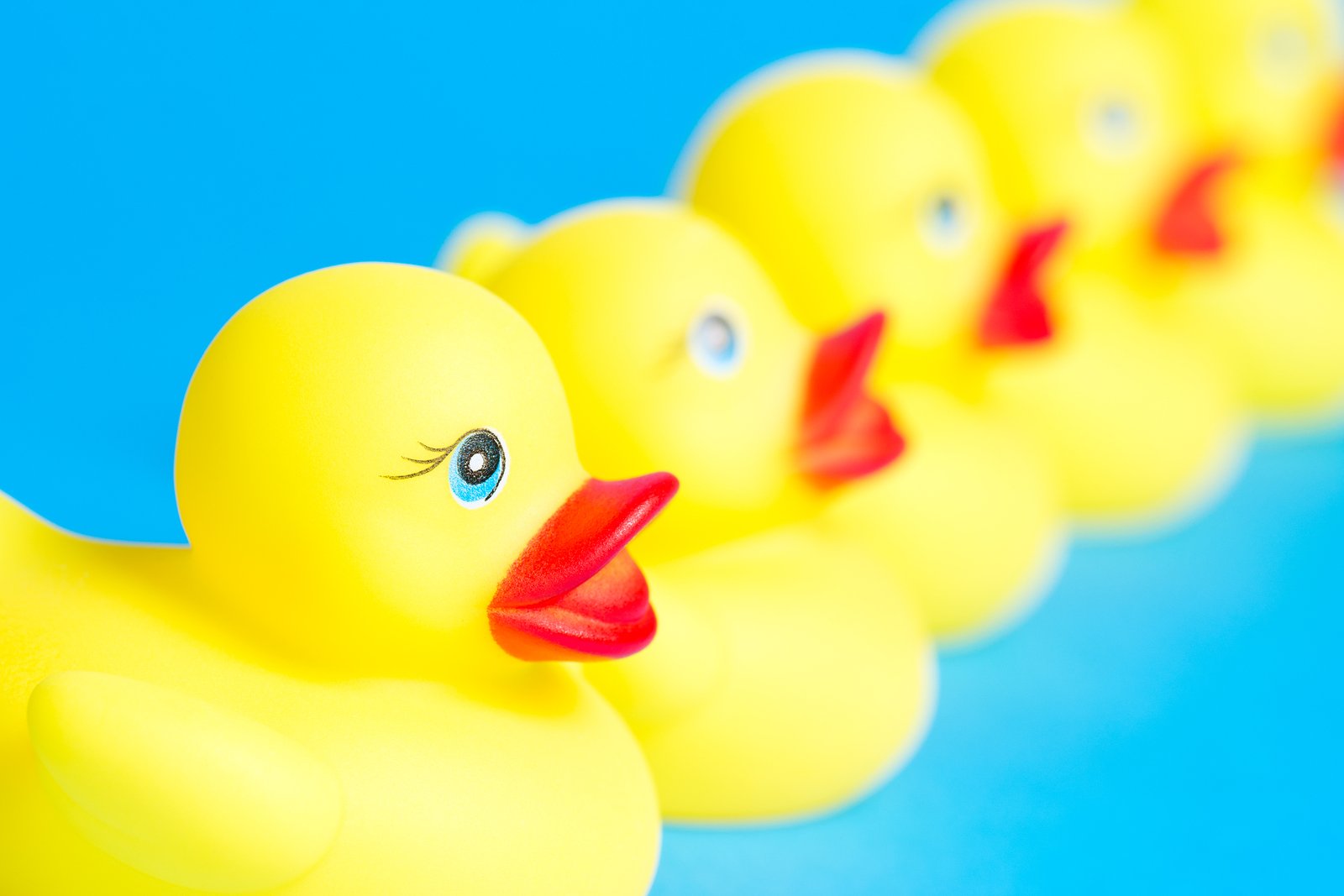 Does your commercial cleaning service have all their ducks in a row when it comes to using industry best practices to deliver the highest possible quality service? If not, it might be time to start looking for a new office cleaning company. Best practices provide the foundation for any successful cleaning program. It is important that your office cleaning company understand and implement best practices because they are necessary to be efficient and effective, requirements in today's economy.
Industry best practices quickly become the standard for an expected quality of service. At Stathakis, we choose to lead the pack instead of duck stepping around in the past by pushing to develop more effective, more efficient services and practices. Not only do these best practices provide a better clean, they help save you money by being more resource and time efficient. So, what exactly are industry best practices and how do they translate into results for you and your facility?
Separating the Swans From the Ugly Ducklings
Office cleaning best practices are the continually evolving set of standards that define professionalism in the commercial cleaning industry. Best practices are those methods of doing things that have demonstrated themselves time and time again to be the current best way to provide an efficient and effective service for any building. How well and to what degree these standards are implemented in your facility by your office cleaning company directly impacts the quality of the service you receive. So what separates the swans from the ugly ducklings?
Does Your Office Cleaning Company Have the Right People For the Right Job?
Among the most critical best practices are a cleaning company's people processes. High quality service is a direct result of high quality staff. Knowing this, you can look at a potential commercial cleaning company's recruiting, screening, hiring and managing processes to identify those companies set up for success. Here are a couple good signs that your company's ducks are in a row with regard to their teams:
Your prospective office cleaner uses a stringent set of comprehensive screening tools like criminal background checks, multi-panel drug tests and employment verification

They conduct a detailed, in-person interview to make sure the person has the right attitude and aptitude for the job

Industry specific training is done to make sure that compliance and regulatory issues are adhered to.

Teams are motivated and managed in such a way that they arrive at your facility ready to do very good work.


Are Cleaning Bids Confusing & All Washed Up
The right people are a critical piece of responsive, affordable office cleaning. A well constructed and easy to understand bid is likewise a critical component of the most effective cleaning services. A well constructed bid consists of two parts tailored around the specific needs of your building:
Accurate and detailed pricing

A clear explanation of what work is being done
A transparent bid is useful for two reasons. First, it allows you to directly compare one bid to another giving you the ability to make an informed decision about which prospective office cleaning service offers the best value. Second, after you've decided on a service provider, it allows you to hold them accountable for the work they agreed to do at the price that they set. Don't let a misleading quote trick you into partnering with an ugly duckling.
Get Your Ducks In A Row From the Get Go
A well constructed bid isn't the only way to hold your commercial office cleaner accountable. They should have systems and tools in place to help ensure customer satisfaction by quickly addressing problems before they spiral out of control. At Stathakis, we help keep our cleaning staff on track with thorough training, clear task lists, quality tools and products, and routine work inspections.
This is then reinforced with a rewards and success program designed to help motivate cleaning staff to improve and perform at a high level. This helps build a positive, supportive work environment helping to motivate employees and retain the most valuable team members. Solid management practices make all the difference when it comes to squeezing every last bit of value out of your cleaning dollar.
Don't Let Health and Safety Go Down the Drain
All of these key elements aside, safety and health need at the forefront when looking at prospective office cleaning services. A company that ignores or doesn't know how to take health, safety and security seriously is going to leave you open to issues and potential liabilities. Proper safety habits mean stringent and robust criminal background checks and multi-panel drug tests at a minimum. This also includes proper, industry specific training coupled with training on chemical usage and storage. Emphasizing safety and health also means using scientifically backed cleaning methods like low decibel vacuums, sustainable practices and safe chemical compounds to help create a healthy, welcoming, clean environment. There is no reason you have to settle for a cleaning service that doesn't have systems in place to protect your health and safety.
Birds of a Feather, Flock Together
As the age old adage goes, birds of a feather flock together and a simple way to identify those companies most committed to success is to look for CIMS certification. Industry certifications like the ISO 9000, ISO 14001 and the ISSA's CIMS and CIMS-GB are a great way to quickly identify companies that have gone above and beyond the industry standard to provide the best possible service and work toward continual improvement. CIMS accreditation in particular, developed by the International Sanitary Supply Association (ISSA), is a powerful and robust certification, which companies voluntarily submit to in order to assess their adherence to industry best practices. The CIMS certification can be broken down into five core areas:
Service Delivery

Human Resources

Health, Safety and Environmental Stewardship

Management Commitment

Systems
Any company that has been CIMS certified has demonstrated that they are committed to professionalism, competency and effectiveness.
If It Looks

Like A Duck

, Swims

Like A Duck

, &

Quacks Like A Duck
At Stathakis, we've been serving the businesses of Michigan for over thirty years. We have pushed to meet, exceed and even develop industry standards and best practices. We are CIMS certified and work to get recertified every year as we continue to push industry best practices forward. We strive to create long term partnerships with the companies that we service and firmly believe that you deserve a cleaning service that delivers on their promises to you. If you are a Facility Manager in Ann Arbor, Detroit, Royal Oak, Farmington Hills, Farmington, Dearborn, Livonia, Troy, Auburn Hills, Novi, Plymouth, Downriver or surrounding areas and you are looking for commercial cleaning services, office cleaning, school cleaning, industrial cleaning, medical cleaning or other building services, please contact us to learn more about how we can assure you get the service you and your facility require.