I had the opportunity to sit down and interview Adam Stathakis who is the director of operations here at Stathakis. Adam recently earned the designation of Certified Buildings Service Executive, or CBSE, through the Building Service Contract Association International.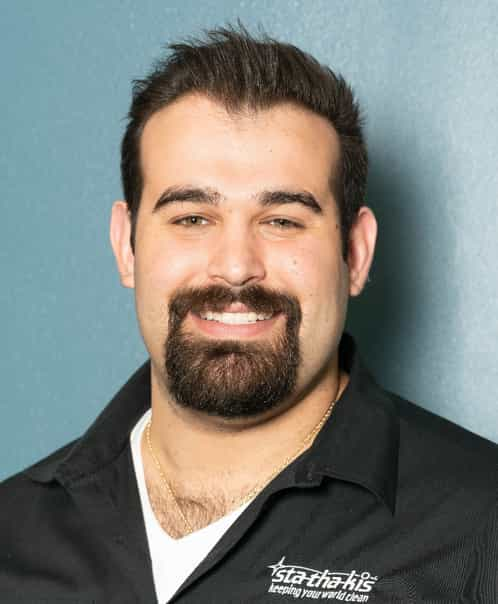 After graduating Hillsdale College with a Bachelor's degree in Accounting, Adam has worked hard to improve his technical skills and leadership abilities. As the director of operations, he oversees over five hundred employees and manages numerous contracts. Under his leadership, his team has reached a customer retention rate of 97.88% in 2020.
The Building Service Contract Association International or BSCAI has been an industry standard for over fifty years. It has over one thousand companies as members that span over fifteen countries and its highest designation is the CBSE.
What made you pursue a CBSE designation in the first place?
"I've had a lot of mentors in the building services industry who really helped shape who I am today. I started to notice that every single one of them had something in common; and that was a CBSE designation. I've always tried to better myself and this gave me a clear way to do that. I wanted to show employees and customers that I was serious about what I do and that I was dedicated to giving my best as a leader."
Why is a CBSE designation important to you?
"To me, it shows that a person is willing to go the extra mile and that they take becoming an expert in their field seriously. Since I'm in a position of leadership, both our employees and customers look to me for answers and this designation solidifies my expertise and assures everyone around me that I know what I'm doing.
In my opinion, my job is all about people. It's about training the right employees and it's about building healthy and supportive relationships with my crew. It's about maintaining good communication with our clients. I like to say that this job is only 2% mops and buckets and 98% people."
What was the process like?
"It was a lot of studying and it took me over a year to prepare for the final examinations. Essentially, I had to become an expert in every aspect of building services and each of the eight textbooks covered a different topic. The topics ranged from actual cleaning procedures to more administrative responsibilities.
For example, one entire textbook was about just about floor care while another textbook was all about personnel safety. In order to receive a designation from BSCAI, I had to have at least three years of experience in a managerial role. The hardest part was finding a balance between working full time and studying on my own."
What were some of the things you learned from the designation process?
"I learned a lot of things about the different aspects of being a manager. I really enjoyed learning about HR policy, because it really added a whole new dimension to how I view hiring and retaining staff. You learn a lot of practical things on the job, but having the legal aspect of leadership really helped me navigate such a complicated topic.
I really learned how to troubleshoot. Every facility is unique, but something I've seen over my years in the industry is that there are universal solutions to most problems. So the cleaning methods that they might employ with five crew members in another country are relevant to my crew of five hundred in America.
Through studying, I now know how to approach and handle any situation that comes up in a building. There are so many specific situations that you have to learn about and I doubt I would have been prepared like this with just experience alone."