It was a big job, with big challenges. TWB, a customized steel solutions company in Monroe, needed the interior of their 300,000 sq. ft. industrial plant painted in a short timeline while the factory was still running.
"TWB pulled the trigger fast – we got the go-ahead in early July and had to have the majority of the job done by August," explained George Stathakis, "To meet the deadline, our crew worked from 6 to 6 for the first 28 days in a row. In total, the job took six weeks to complete."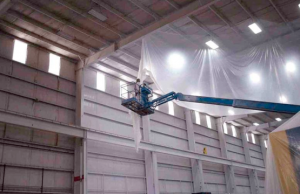 The project included painting ceilings, walls beams, columns, cranes and color coding all pipes. We worked closely with Sherwin Williams to choose a product that would have longevity with also being friendly to the environment. Since odors and coverage were a concern as well, we ultimately selected a water-based product. This product allowed TWB employees towork in close proximity to our painters without breathing the normal Volatile Organic Compounds (VOCs) emitted by more traditional petroleum based paints.
Stathakis worked closely with TWB plant manager Gene Jolly to coordinate a rolling schedule that kept both the project and the factory running on track. Their strategy wasto work an area and then move on, often working around robots and top lines. The job required an excess of 4,000 gallons of paint, four manlifts and about $30,000 in visqueen to protect the robots and workspaces.
Jeff Keaton, TWB Purchasing Agent, explained why they choose Stathakis for the project. "Price was important, and Stathakis was competitively priced. Also, we knew them because they have done our janitorial work for four years. We knew the quality of work they do and the work ethic instilled in their people. They did an excellent job."
"By painting the plant, there is an increase in morale. Now our employees walk into a brighter plant, it's a difference between night and day."