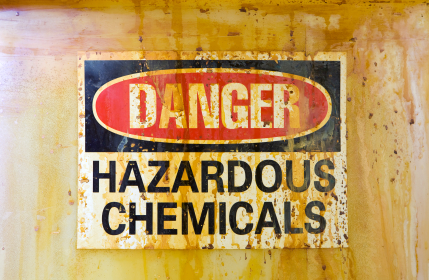 OSHA Hazard Communication Standards Updated
OSHA, the Occupational Safety and Health Administration has announced new rules effective December 1st, 2013 regarding how hazardous chemical information is communicated to employees. These updates to OSHA's Hazard Communication Standard are bringing the United States into alignment with the Globally Harmonized System of Classification and Labeling of Chemicals (GHS). The goal of this is to have an international standard further improving the safety and health of all workers. The United States actively participated in the development of the GHS and is a member of the UN groups established to maintain and coordinate implementation of the new regulations.
The new requirements fall under the Hazard Communication Standard (HCS) and all employees handling chemicals in your facility are required to be trained by December 1st, 2013. According to OSHA, "The new hazard communication standard still requires chemical manufacturers to provide hazard information to employers. The modified standard provides a single set of criteria for classifying chemicals according to their health and physical hazards and specifies hazard communication elements for labeling and safety data sheets."
What Are the New Hazard Communication Requirements Designed to Do?
According to OSHA, the updated standard covers more than 40 million workers who produce or handle hazardous chemicals in over five million workplaces throughout the country. The revision is predicted to avoid more than 500 work related injuries and illnesses and as many as 43 fatalities yearly. It is also expected to:
Heighten worker understanding of hazards, especially for low and limited-literacy workers.
Reduce confusion, simplify safety training & result in safer handling & use of chemicals.
Provide workers with easy & immediate access safety data sheets.
Offer a $475 million cost savings to American businesses in productivity improvements, fewer safety data sheet & label updates & simpler new hazard communication training.
Reduce trade barriers by harmonizing with systems across the globe.
What Will New OSHA Requirements Mean For Your Facility?
According to OSHA's own reporting, these are the five most frequent OSHA violations:
1. Fall Protection
2. Scaffolding
3. Chemical Hazard Communication
4. Respiratory Protection
5. Lockout/Tagout (Controlling Hazardous Energy)
With Chemical Hazardous Communication making the OSHA top five violations list, you know that big brother will be watching closely to make sure companies are in compliance. OSHA has provided an implementation schedule for facilities to adapt the revised Hazardous Communication Standard, including certain training requirements to be completed by December 1, 2013. OSHA will begin analyzing a facility's compliance with the new HCS during inspections. As a Facilities Manager, it is important that you protect your company's reputation for health and safety and stay out of reach for OSHA violations. Here is what you can do to make sure that you are protected:
Get a written plan from your Commercial Cleaning Services on how they plan to be compliant with the new standard.
Ask to see training records verifying that all cleaning staff members have been properly trained.
Check the MSDS (Material Safety Data Sheets) book to make sure that it is updated with all the new forms.
You don't have to leave yourself vulnerable to OSHA violations from your commercial cleaning service or janitorial service. If you take it upon yourself to make sure your cleaning company is doing their part to insure they are in compliance with the updated OSHA requirements, everyone is informed and protected. For more information regarding the new Hazard Communication Standard and how to protect yourself and insure compliance, go to: https://www.osha.gov/dsg/hazcom/hazcom-faq.html#10