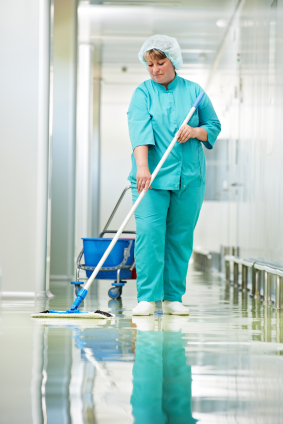 No one comes to their physician, hospital or medical group expecting to get sick, but that is exactly what can happen when your medical cleaning is not up to par. People getting medical care can catch serious infections called health care-associated infections (HAIs). While some of these HAIs are declining, many are actually on the rise. Medical office cleaning services play a big role in minimizing infections. If you've been cutting costs by downgrading your cleaning staff, you could be playing a dangerous game. According to the CDC, Health Care Facility Administrators can help minimize the spread of many HAIs by insuring their cleaning staff follows CDC recommendations, EPA-approved disinfectants following all best practices.
Not only does subpar medical cleaning put your patients and staff at risk, it can put your good standing in jeopardy as well, not to mention a loss in patient and practitioner referrals. Infectious control is a very important part to patient health and the success of a medical practice. There is a new order in Medical Cleaning and it's no longer good enough to just go through the motions of cleaning. Record keeping is becoming an increasingly important part of delivering service and demonstrating a solid record of cleaning for health. Accreditation Organizations such as the JCAHO are demanding such documentation. Along the same lines, improper medical cleaning can lead to low HCAHPS scores.
We all know that medical cleaning is substantially different than other types of cleaning but what can we do to make sure that we are getting medical cleaning that offers the required attention to health and safety? Medical cleaning services require experience, a comprehensive plan, and staff that are fully trained to get the job done right. In order to get the best in medical cleaning, you must first consider what your major considerations are. Is it value? Are you looking for green medical cleaning? Do you need a company who is well versed on compliance? Whether your organization is looking to go green or simply just needs to stay clean, there is a solution and system that will put patients' health first.
You are right to be concerned about the dangers of infectious diseases in your medical facility. Finding an exceptional medical office cleaning services is the first step to minimizing the impact of these life-threatening conditions on your facilities, staff and patients. But we understand there are important cost considerations too. Outsourcing your medical cleaning to a knowledgeable cleaning company with a proven track record of successful medical cleaning is the first step. An expert medical cleaning company will pay for itself in the long run as annually, billions of dollars are spent or lost as a result of preventable infections. Likewise, a medical facility that looks clean and is clean, is far more likely to earn top marks from patients and other health care providers and reflect positively on HCAHPS scores, adding up to repeat business and referrals over time.
When trying to separate the good from the bad when looking for a medical cleaning company, consider the following:
Does the company in question maintain safety compliance training for OSHA, HIPPA, & Bloodborne Pathogens?
Does the medical cleaning company use of EPA approved, spore killing disinfectant cleaning agents?
Is the company you are considering aware of the disinfecting strategies that are required for proper infection control like dwell time?
Do they offer significant experience working in hospitals and other medical environments?
Do they stay in compliance with all federal, state, and local regulations?
Do they offer an organized staff that is efficient and well trained?
What do they specifically do to prepare employees for medical cleaning?
High quality, expert medical cleaning services are proven to help stop the spread of dangerous infections. Whether you manage a medical office, hospital, clinic, or nursing home, you must insure you are getting a medical cleaning service that is serious about cleaning your facilities.