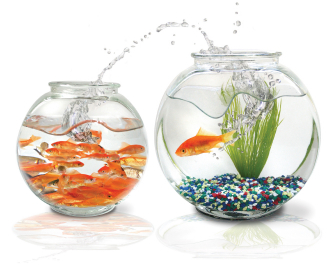 Do you ever feel like all janitorial services companies in Michigan are alike? Tired of hearing the same old song and dance from your Janitorial Service Company? Whether you are hearing it from your current contractor or the hundreds of contractors that court you on a regular basis, they all sound the same:
We hire better people

We use better chemicals.
We're green.
We use microfiber.
We are fully bonded and insured.
We train all our employees.
Good People, Products & Insurance Are Just the First Benchmark
The fact that someone has insurance, trains their employees, and uses high quality chemicals with an eye on the environment are the minimal requirements of hiring a good cleaning company. While all of these components are important, hearing them over and over again in an unsubstantiated sales pitch can get very old. So how do you go beyond average janitorial service in Michigan and find a Michigan janitorial company that offers quality professional cleaning services that eclipse the competition by leaps and bounds? How do you find the real performaer in a sea of options? How do you find the best Michigan janitorial companies and get a quality, professional cleaning at a reasonable price?
Substantiate the Sales Pitch
It's all too easy for a Janitorial services company in Michigan to talk you to death about how great they are. Look, securing new customers is an important part of any company's growth plan but a professional janitorial services company in Michigan should be able to offer you evidence that they are all of the things they say they are. So when they tell you they are insured, ask to see their policy and whether they have offer general liability insurance and an umbrella liability policy to provide an extra layer of insurance that shields you and your organization from third party litigation.
When they tell you about their quality people, confirm that your janitorial services company in Michigan is using employees and not subcontractors and conducts thorough screening. Subcontractors are often used in the janitorial industry to keep the costs of wages, benefits and payroll taxes low allowing for higher margins. This often comes at the expense of the employee, which is then passed on to the customer in the form of more turnover, and employees who are not invested in their jobs. A company that employs people with proper payroll and tax and Social Security withholdings is both committed to their people and committed to their community. Likewise, an employee that is a valued member of their company is much less likely to go from job to job every few months. Your Michigan janitorial services company should be able to confirm hiring practices are above-board and thorough, including mandatory drug testing, criminal background checks and reference checking. Every member of their staff should be a legal employee, fully trained and properly covered by insurance. A janitorial services company in Michigan that offers a solid team of good people and has the information to prove it, will net you better services over the long run.
Green cleaning can be an empty buzzword or a solid commitment to health, safety and environmental responsibility. When the perspective cleaning company tells you they are green, tell them to back that claim up. Truly green cleaning is about much more than a bottle of non-toxic window cleaner. What green products do they use and how are employees trained in the processes and methods that must be employed? What green-cleaning equipment is utilized? What certifications does the Michigan janitorial services company have to confirm their commitment to green cleaning? You as the buyer must be aware of the fact that some companies lie, massage the facts, and design their sales pitches to sell you. It is your job to be an informed consumer and make sure your Michigan janitorial services company is everything they say they are.
ISSA CIMS GB Certified: What Does It Mean?
Checking and double-checking and asking all of the hard questions can be, well, really hard. If you want to streamline the process and let someone else do much of the upfront work for you, there is the option of going with an ISSA CIMS GB Certified Michigan janitorial services company. If the prospective Michigan janitorial company is ISSA CIMS GB Certified, it will save you a lot of work in qualifying them. The Cleaning Industry Management Standard (CIMS) certification program is a rigorous program that sets a standard of excellence for building service contractors. Implementation of the standard's signature framework, which is built around five universally accepted quality principles, establishes a janitorial services company in Michigan as a high-performance, customer-focused cleaning organization. The GB (Green Building) part of the ISSA CIMS GB certification demonstrates an organization's commitment to helping their customers secure LEED-EBOM points. To get more information on ISSA CIMS GB Certification, click here.
The Extras That Can Make All of the Difference
So what should you look for to find a janitorial services company in Michigan that goes beyond the basics? Do they operate with transparency, which includes open book pricing? How much do they really talk about their people and what do they do to train and prepare their employees? Do they invest in their development? People are the most important element of delivering any type of service. Do you feel a buzz about their culture and how they embrace their people? Do they view their people as just a "human resource"? Or do they see all of the members of their team as vital members of their work community? Lest you think these "feel good" elements are unimportant, understand that people who feel respected and valued work harder, stay in their jobs longer and own their work in a way that is incredibly beneficial to you the customer. So do a little homework or opt for a company with ISSA CIMS GB certification to create your "short list." Then dig just a little deeper and we are sure you will find a janitorial services company in Michigan that is leaps and bounds ahead of just average.