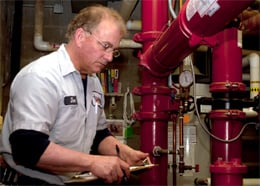 by Don Simon
When you are exploring your options for outsourcing your
building maintenance services
, it is important to remember that the hiring process involves more than just finding good
janitorial contractors
to clean your facility. You're hiring and entrusting someone to make sure that your building is a safe and attractive space that runs smoothly.
For the reasons listed above, no one wants to get locked into a contract with a company that delivers substandard building maintenance services. Understanding this, we've compiled a list of tips and hints to aid you in your search for the best building maintenance services for you and your facility.

Understand your building's maintenance needs.
Before you interview prospective
commercial building maintenance
teams, evaluate for yourself the condition of your building, or facilities, and form an idea of what type of services you will need and how often you will need them.
You may feel that you don't need full-time maintenance services. If this is the case, then you should look for companies that will work with you part-time, or that offer convenient,
on-demand
commercial handyman services.
Know what to look for in building maintenance services.
The real secret behind hiring good building maintenance services is to do business with a company that is responsible. This may sound like common sense (and it is) but you would be surprised how many facility managers the world over have placed cheap pricing plans above service and reliability.
A responsible company should possess the following elements along with their building maintenance services:
Fully Licensed and Insured
Experienced in Their Field
Don't be afraid to ask questions.
When you're interviewing prospective building maintenance services you should feel comfortable asking whatever questions you see fit to make sure you're hiring the right company. A maintenance service is one that typically has full access to all areas of your building. You need to know who is going to be in your building. An honest, dependable company won't shy away from an extensive interview. Some good questions to ask include:
Furthermore, you need to make sure that they're able to provide you with the various services you require to maintain your facility. The company you want should offer a
variety of maintenance services
so you know that they're prepared to handle any surprised that may come your way. For example just some of the facility maintenance services we provide are:
Electrical Repairs
Painting and Wallpapering
Plumbing Repairs
Door, Hinge, and Hardware Repair
Safety Audits
Forming a partnership with the right maintenance services is an important business decision that will deliver many great benefits down the road and for years to come. Hiring the best building maintenance services gives you the peace of mind that your building is in good hands, will be well-maintained, always looks its best, and will fetch a great price should you ever choose to sell.