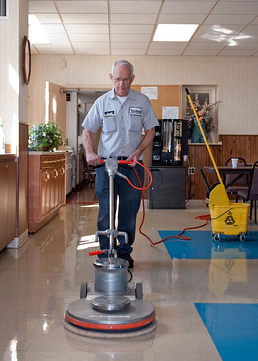 It's easy to underestimate how important it is for a building to maintain proper care of its floors. Of course, floors have to be kept clean, but is it really necessary to hire a commercial floor care service? It is. Here are three reasons why commercial floor cleaning is essential to your business.

1. The state of your building's floors makes a crucial first impression on potential customers and clients. A gleaming, shiny floor is friendly and inviting. It will make the rest of the room look brighter and more professional. People will remember it, and want to come back. In the same way, a floor that hasn't been properly maintained can create a bad first impression. If your floor is dirty, or has spots and stains on it, obviously people will be turned off and not want to return. But even if the floor isn't noticeably dirty, it's still evident if it hasn't been properly cleaned in awhile. Over time, dust builds up, and the floor loses its luster, making the room look duller and less welcoming. When it comes to creating first impressions, commercial floor cleaning makes all the difference.

2. Even more important than the aesthetic value of floor refinishing, though, is the issue of safety. Slip and fall accidents are one of the biggest causes of workplace injuries, as well as being a tremendous insurance liability. But many of these accidents can be prevented by using commercial floor care. Layers of dust build up on a floor that isn't properly maintained. Dust reduces friction when people walk on it, which is what causes most slip and fall accidents. That's why proper floor maintenance is so important. A good floor care program doesn't just keep floors clean, shiny, and dust free. They also strip and wax floors, giving them a slip-resistant seal that increases friction and helps reduce the risk of accidents.

3. A floor maintenance professional eliminates hassle. Whether you're running an office building or other business, you have enough to worry about already. Hiring a professional to do regular floor refinishing saves you the trouble of wondering whether or not your floors are clean enough, remembering when the last time you did it was, and worrying about safety issues and insurance liability. What's more, a commercial floor care service will make sure the job is done right. Those unsightly spots that seem to have become a permanent fixture on your floor will disappear forever, and you'll be left with a sleek and beautiful sheen that can only come from a professional floor care program. But if a floor is cleaned improperly, not only will it not look as good, it can also be left wet and slippery, which can lead to more slip and fall accidents, not less. You may think that doing your own floor care will save you money, but if someone slips and falls, you'll end up paying a lot more in insurance premiums. A commercial floor care professional knows how to strip and wax floors properly, to make sure that they're clean, safe, and hazard-free.

The benefits of commercial floor care far outweigh the costs. It sends a message to your customers and clients, that your building is a clean and inviting environment. It also sends a message to your employees, that you care about their safety and well-being by keeping your floors clean and safe, as well as setting a standard of cleanliness for them to follow at their own work stations. A clean work environment is a happy, productive work environment. And the best way to ensure that is with commercial floor care.