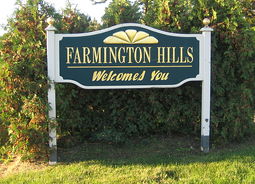 Stathakis continues its growth in Farmington Hills, Michigan - supporting their new office space located on Orchard Lake Road. Farmington Hills is a great area to do business in, as its history is filled with pages of glory. Stathakis is proud to deliver Farminton Hills Janitorial!
The first white settler in what became Farmington Township was a Quaker from Farmington, New York, named Arthur Power. He purchased the land in 1823 and returned in 1824 with a group of family and associates to clear the land. The settlement became known as Quakertown. A post office was established in January 1826 with the name of Farmington and the township was organized in 1827. In 1964, the city of Farmington started a tradition that became known as the Founders Festival. The festival is always held in mid-July each summer and is a fair gathering held in the downtown Farmington area. It's filled with arts and crafts, entertainment shows, good food, friends and family, and a fun atmosphere. In 2010, Farmington Hills had a population of 79,740.
Stathakis has been part of the Greater Detroit area since 1976 and is proud to be providing Cleaning Services in Farmington Hills, Michigan. Stathakis is the largest Michigan-based janitorial, maintenance, and painting company providing a single source for all your buildings needs. Our business is specifically designed to address the #1 concern of today's building managers by balancing high quality work with the fiscal reality of tight budgets. A professional, well-executed job paired with above-board business practices, are some of the reasons that the average Stathakis customer has been with us for over 7 years - unheard of in our industry. Stathakis is CIMS-GB Certified by the ISSA. If you are looking for ways to clean greener or you are working on LEED-EBOM points, you are in expert hands with Stathakis. Our services include: Janitorial, Facility Maintenance, Medical Cleaning, Office Cleaning, School Cleaning, Green Cleaning, Commercial Handyman Services, Painting Services, Light Bulb Replacement, Carpet Cleaning Services.
At STATHAKIS we believe success in the building services industry depend completely on the quality of the team. That's why Stathakis hires well, trains well, and rewards our team fairly. All potential employees go through a thorough interview and testing process that includes, drug testing, police background checks, personality testing, and reference checks. We will never, ever hire illegally. To provide you with consistent, high-quality service, Stathakis has a formalized training program for a systematized cleaning process. Every Stathakis team member assigned to your project will receive several hours of training before they enter your building. We begin with detailed instructions from our C3 Operations Manual and conclude with a team review of your work specification. After all, our employees are the ones who are representing us in your buildings. DOWNLOAD OUR JANITORIAL PURCHASING GUIDE: