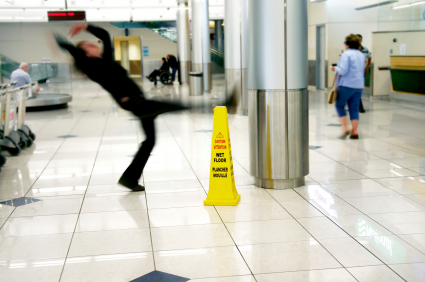 Slips and falls are the main reasons people get injured at work. Here are some cold, hard facts from the Bureau of Labor Statistics:
The number of workers injured by falls has exceeded 200,000 per year, accounting for almost 20% of disabling workplace injuries.
About 835 workers died from a workplace fall in 2007.
The average direct cost for one disabling workplace injury has been estimated at $39,000 to $43,000.
There's no wonder why we see a large number of lawsuits being filed claiming for compensation from these injuries. Such accidents can be prevented if proper attention is given on the maintenance of floors. Cleaning contractors and facility managers can take simple steps and avoid the facility to be blamed. Something as simple as mopping floors can be a preventive measure in itself.
Slip and fall accidents happen due to less friction on floors or if the floors are wet. Friction is good for floors and that's what enables us to walk on it without falling and sliding. When a floor is not cleaned, it forms a layer of dust and dirt on top of it. So when we land our foot on it, this layer reduces slip core efficiency and causes accidents. Many of us think that shiny floors are slippery, which is obviously not true unless they are wet. A shiny floor represents a clean floor because it's dirt-free and waxed, which would cause more friction. Let's have a look at reasons why people really fall:
Running or walking too fast
Improper Footwear
Difference in surface (from outside to inside)
Uneven or sloping ground surfaces
Not paying attention
Untidy and cluttered work areas
Grease build-up and spills
Dirty floors
Accidental trips
Slip and fall accidents have been the main reason which led to the invention of slip meters. This equipment measures levels of friction on surfaces. The slip meter is the ultimate safety engineering tool to help you select safer walking surfaces. You can also use it to monitor the quality of cleaning on hard floors. It is simple to use - the higher the reading indicated on the meter, the more friction there is available, and safer is the surface to walk on. Slip meters have many advantages, as it sets a standard for cleaning and can also demonstrate figures to the facility managers and owners. It is simple to use, carry, and store. Above all, it provides comfort to the facility manager with the sense of protection from accidents.
Common Control Measures:
Implement policies and safe work procedure with awareness.
Allow sufficient time to carry out cleaning tasks and routines.
Try to maintain dry conditions where polished floors are used.
Perform wet cleaning outside normal working hours wherever possible – otherwise put barriers and warning signs.
Remove hardened grease from tiled floors in order to benefit from any slip resistant texture of the tiles.
Finish wet cleaning processes by vacuuming up solutions or mopping dry, to minimize the time the floor is wet.
Keep floors clean from dirt, dust and any other debris.
Make sure that you have a good commercial floor cleaning program.
At STATHAKIS we have a unique perception on floor maintenance. We strip and wax floors with products from Diversy (formely know as Johnson Wax), which is the most trusted source floor cleaning and floor maintenance products. Because we use their products exclusevly in the cleaning and refinishing of all floors we maintain, they represent our customers in certain slip and fall cases with no additional charge. This program is know as SC JOHNSON WAX EXPERT WITNESS SERVICE which all Stathakis customers have access to. They have an excellant track record of winning most slip and fall cases. STATHAKIS has been providing janitorial services in Michigan for over 35 years.