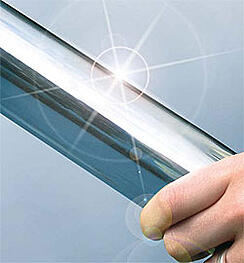 As the name suggests, stainless steel has characteristics of corrosion resistance, strength and dirt resistance, which makes it usable in different sections of buildings, kitchens, and restaurants. Despite of its inherited properties, a stainless steel surface will corrode and rust if it's not maintained. For a surface to live up to its name, it's important that it be kept clean and polished on regular basis, only then optimum results can be achieved. Anything that damages or interferes with that chromium/air interaction (like dirt, oil, or scratches) will cause stainless steel to stain, corrode or rust. So therefore, frequent cleaning is necessary.
Many commercial buildings have stainless steel in their restrooms. Visitors to your building may judge a clean restroom by how clean the stainless is. So the best way to make a lasting first impression is to make sure your stainless is always shining, whereever it is in your facility.
Surface maintenance is affected by:
Service Condition
Surface Contamination
Working Environments
Cleaning Procedures
Chemicals used for cleaning
How to Clean Stainless Steel:
The frequency of cleaning a surface depends on its usage. Areas where surface contamination is frequent requires immediate cleaning to prevent health hazards. In many cleaning processes sterilizers, disinfectants, and strong acids are used for maintenance. Follow these tips from a commercial cleaning service Detroit to maintain your stainless steel surfaces effectively.
Hot water and soap:
Use hot water and soap to clean the surface, making sure you put enough soap to clean effectively. This is a carefree routine of cleaning as compared to acid and other chemicals. Hot water will help you to get rid of the old stains.
Use microfiber cloths to wipe:
The use of a microfiber cloth is preferred as it cleans more effectively when compared to normal cloths. It can soak more water and remove stains easily. Although you can also use normal cloths to wipe down soap.
Wipe with the grain:
Stainless steel surfaces have grains when you wipe, so make sure you wipe with the grain of the surface, not against it (this will damage the finish).
Use water to rinse after cleaning:
After you're done with application of soap and removing stains and finger prints from the surface, make sure you rinse the surface well with the water to remove left over soap on the surface.
Stainless Steel Polisher:
Use only marked stainless steel polishers on the surface, as it will bring a nice finish to the surface. Using just any polisher may damage the surface and will hard to derive satisfying results.
Clean on Regular Basis:
The best form of maintenance is a frequent regular cleaning. By regular maintaining stainless steel, or most other services in your building, you should not have to perform a restorative process.
Things to avoid while performing maintenance.
Avoid using powerful acids and chemicals:
A powerful chemical will kill the bacteria but will also kill the life and shine of the surface. Try to use something which is easy to use and good for the environment. A marked stainless cleaner will kill the germs too.
Avoid using steel or rough scrubbers on surface:
Rough scrubbers will only do more harm than good and will scratch the surface later resulting in rust. Microfibers and sponges are preferred to remove the stains from the surface. Using a smart cleaner to clean the surface will save time in scrubbing.
A good Facilities Maintenance Service company should be able to recommend products and services to prolong the life and appearence of the stainless steel in your building.