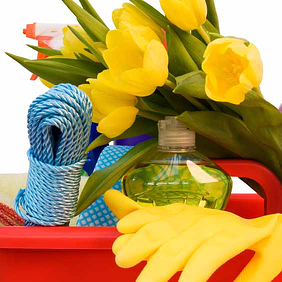 Most would agree that a Spring Cleaning improves the image of our facilities. It makes the carpets fresher, the tile brighter, and the windows clearer. It is uplifting to many people when having their facility freshened up.
But did you know a Spring Cleaning has another positive impact? It can prolong the life of your surfaces, save you money over the long haul, and preserve your warranties.
Take carpet for instance- steam extraction cleans the dirt and odors from deep within your carpet that vacuuming alone does not get out. It can reduce allergy and dust problems. It will also increase the longevity of your carpet, because deep down dirt wears down the fibers causing your carpet to wear out before its normal life expectancy. In some cases warranties are void if carpet is not deep cleaned periodically. If too much time elapses between deep cleanings, it gets much more difficult and nearly impossible to remove the wear pattern in the carpet even if it is as clean as it can get. A full carpet cleaning is recommended once a year with the high traffic areas receiving extractions another one or two times in-between.
Tile, both ceramic and vinyl, also benefit from reconditioning. Mopping alone does not prevent gradual buildup of dirt deposits especially in the grout (grout is porous and attracts dirt eventually turning light grout dark). Machine scrubbing with a zim-grit brush and strong degreaser removes the deposits and brightens the grout. Using hand tools or small electrical edge tools allows detail work to be performed in the corners, edges, and around and behind fixtures such as commodes and partitions.
Vinyl Tile is designed to be sealed and waxed. It is a soft man-made material and requires the protection to look its best and last its longest. In some respects it is similar to carpet, in that if left improperly protected, sealed, and waxed, it will develop wear patterns and scarring that will not be fixable after the fact. The best program includes stripping and waxing (minimum three coats) once every 12-18 months, with one or two scrubbing and waxing (two coats) in-between the stripping. Some companies are able to perform the scrubbing with a Booster, which is a dry system and significantly reduces the tile floors down-time. Like with ceramic tile hand tools or small detail, equipment is needed to strip and clean corners and edges.
Be very careful how long you go between window washings. Glass can be etched and scarred beyond repair using conventional methods if too much time elapses between cleanings. This, of course, is more applicable to the exterior side than the interior side. Due to the poor economy, many companies have gone more than a year without window washing. This can cause the glass to have permanent marks on it that will not come out using conventional techniques, and may require acid etching to bring back to its original clarity. A minimum of once a year on the outside is recommended (twice is better), and once every year or two on the inside.
Spring Cleaning is a good time to not only refresh the health and image of your facility, but also to gain some life expectancy from your furnishings and surfaces. See your favorite cleaning service provider to assist you get maximum value from your cleaning service investments.

Stathakis, an ISSA CIMS-GB certified janitorial company, has been providing business cleaning services for over 35 years. CIMS assures our customers that our processes are among the industries best. The "Green Building" (GB)*** part of the certification symbolizes our capability to assist our customers in achieving a greener clean, in addition to earning LEED-EBOM points.
If you are shopping for Cleaning Services see Stathakis' newest Ebook, "The 360 Buyer's Guide to Better Cleaning Services", cleaning industry experts provide key insight into how to navigate through the maze of Cleaning Companies to find the best value for your facility. Get this Janitorial Buying Guide today!