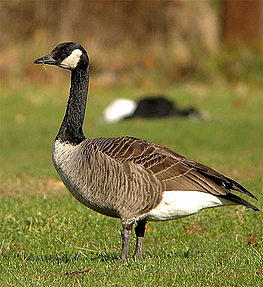 The sound coming from a flock of Canadian geese remarks the change of seasons. The giant species, once nearly extinct has faced population explosions in recent years. Canadian geese is present everywhere. They roam around in groups called "gaggles". Undoubtedly, in recent years they have been creating a lot of nuisance in almost every town of America. More than three-quarters of American population resides in urban areas. These birds have been constantly sneaking in play grounds, parks, golf courses, sports fields, school and universities and in private residencies also. For sometime it is fascinating to watch them in your ground, but what they leave behind on the grass is half- a-pound of goose droppings each and everyday. What gets disrupted is a healthy work environment. The basic problem faced by the residents is that geese are federally protected, i.e., you cannot threaten or murder them. They do not migrate but fly for around 100-200 miles in search of water, food and safety but return to where they were.
The major problem is to find a solution to get rid of them and their poop. In a way it is are dangerous for almost every age group. When geese reside at specific sites, their droppings soil the environment in a very unpleasant manner. Cleaning services frequently examine the level of contamination from place to place to maintain a healthy work environment. Though talking about controlling is easy, but mounting the needed measures is a tough task. It should not be painful for any individual to spend some money on cleaning companies or hire a building service contractor and get the job done. These cleaning companies clean the area full of feces and prevent accidents. It is slippery in nature which causes people to fall and have major hip injuries. Apart from various cleaning services or building service contractors, there are various other methods discussed below to be followed to maintain a healthy work environment :-
DO NOT feed the species on the basis of their beauty. The result is always bad. They will come back to your place each time and spoil the environment. Initially, no one cares about it but afterwards it only causes headache.

To maintain a healthy work environment contact your cleaning services and get the job done in order to avoid many problems.

If there is a pond nearby, try building in a manner that there is 10 to 24 inches vertical bank. It is hard for young ones to get into the ponds with steeper banks. Allow the pond to freeze in winters.

Gardens should be fenced and trees with fruits must be covered with net.

Seals all the holes to prevent young ones from getting inside.

Cover the windows with hardware cloth.

Do not keep the pet food outside.
It is in the hands of the people to maintain a healthy work environment and take care of all those small points in mind. Various cleaning companies are there that on contract help you to keep your place geese free.Instead of hiring various cleaning companies, make communities and appoint a building service contractor who can take care of all such things. The building service contractor shall be responsible for getting the setup of mesh hardwire cloth wherever needed, maintenance of fences, to assure people that they reside in a healthy work environment.
Though giving suggestions is a cake-walk but following them is tough job. If people and various communities do not take into account any extra measure, the time and money spent will go down the drain. The ultimate should be to find a solution with minimal bickering. Each building service contractor or community will have their own concerns for issue. The main challenge would be balance the nuisance so created without disrespecting the wildlife.

Stathakis, an ISSA CIMS-GB certified janitorial company, has been providing business cleaning services for over 35 years. CIMS assures our customers that our processes are among the industries best. The "Green Building" (GB)*** part of the certification symbolizes our capability to assist our customers in achieving a greener clean, in addition to earning LEED-EBOM points.
If you are shopping for Cleaning Services see Stathakis' newest Ebook, "The 360 Buyer's Guide to Better Cleaning Services", cleaning industry experts provide key insight into how to navigate through the maze of Cleaning Companies to find the best value for your facility. Get this Janitorial Buying Guide today!