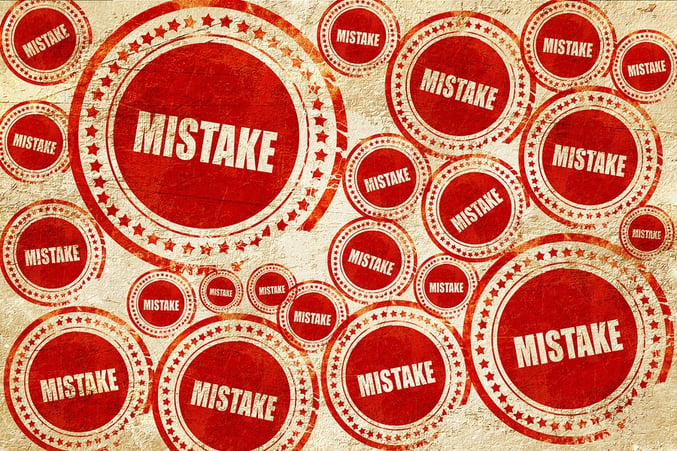 Commercial carpet is one of your facility's most costly assets. Maintain your commercial carpet improperly and you can get into a costly cycle of replacing your carpet significantly sooner than it should be. Commercial carpet is designed for long wear and with regular scheduled carpet maintenance, you can get even more years from your office carpeting and facility carpet than promised by the manufacturer. But even when you schedule regular carpet maintenance, if your carpet cleaning company is making these common mistakes, they may be keeping your carpet and your facility from looking is best and even reducing the life span of your carpet.
Not adequately training their teams.Commercial carpet cleaning is a science and requires the right methods and practices to work effectively. If your Building Services Contractor does not sufficiently train their people on everything from how to use equipment most efficiently to chemical safety to spot testing new products or compounds, they are putting you, your employees, your carpet and your facility at risk.
Carpet cleaning companies that use the wrong method for the wrong job or use carpet cleaning methods, like Bonnet carpet cleaning, that typically void your carpet's warranty will put you in the position of having to replace this costly asset far sooner than it needed to be replaced.
Chemicals have their use in carpet cleaning even when you use green carpet cleaning methods. Different formulations are very effective at both cleaning carpets and spot cleaning specific stains to prolong the lifespan and appearance of your carpets. Yet carpet chemical misuse and carpet chemical overuse are common mistakes made by an inexperienced commercial carpet cleaning company. Not only can overuse and misuse of carpet cleaning chemical damage your carpet, they can compromise the health and safety of your facility.
Not attending to stains right away is a common mistake made by janitorial companies and even Facility Managers. Like any staining, the faster you get to it, the better chance of removing it. Leaving carpet stains to set just makes them more difficult to treat. So if you see a stain, contact your commercial cleaning company to address it. Likewise, communicate with your janitorial company to alert you when they see carpet issues that need attention.
All too often carpet cleaning companies can be too rough on carpets. Methods that use excessive scrubbing, scraping or too much agitation wear at the fibers of your carpet. Not only is this typically unnecessary to get your carpets clean and looking good but this wear cuts at carpet fibers and causes a dull, matted look that can reduce the life span of your office carpeting.
Odor neutralizing powders have their place. And yet, if your carpet cleaning company is overusing deodorizing powders they may be a cover for insufficiently cleaned carpets and can build up in carpeting over time. If anything, these powders should be used sparingly and not as a replacement for a proper carpet maintenance program.
One area your carpet cleaning company might be putting your carpet at risk is with their equipment. Like most other things, carpet cleaning has improved over time and the technology to maintain your carpets continually improves. If your Detroit carpet cleaning company is using faulty or old equipment, it can be costly, ineffective, dangerous and waste resources.
One of the most significant factors in premature wear of your commercial carpeting is using a carpet cleaning company that does not have the experience and knowledge to protect your carpets. With improper carpet maintenance you can cut the lifespan of your carpet in half! So paying a little less sometimes can be the worst deal of all long term. Carpet cleaning companies and janitorial companies that have achieved professional certifications like the ISSA's CIMS have been vetted as already working with industry best standards. Often these highly experienced and professional carpet cleaning companies aren't even more expensive than start ups and such because they operate at a scale where they can offer better pricing.
When it comes to carpet cleaning and maintenance, it is vital that you as a Facility Manager view it as a long-term investment. The dollars and cents bear out that a regular carpet maintenance program saves you money long term and protects your bottom line. By utilizing best practices and investing in regular preventative cleaning, you can conceivably add years to the life span of your office carpeting.
At Stathakis, we have built a reputation for effective, responsive, solid carpet cleaning and maintenance. We offer commercial carpet cleaning services that are customized to meet the needs of your facility whether you need school cleaning, industrial cleaning, office cleaning, medical cleaning and more. One size doesn't fit all so have at our disposal a number of modern, effective carpet cleaning technologies in order to offer you the solution that is best for your facility, your carpet and your budget.
We offer proven carpet cleaning methods including truck mounted carpet cleaning, portable machine carpet cleaning, low moisture carpet cleaning, dry carpet cleaning all geared at getting you a deep clean, improving carpet's appearance, extending the life span of your carpet, improving overall indoor air quality and safeguarding the health of every individual who steps foot in your health care facility. We offer both on-demand carpet cleaning and subscription based carpet cleaning programs that can net you real value and reduce the hassle of planning continued carpet maintenance. For more information on how you can keep your floors cleaner than they have ever been, please contact Matt Brown, Stathakis Special Projects Manager at #800-278-1884.