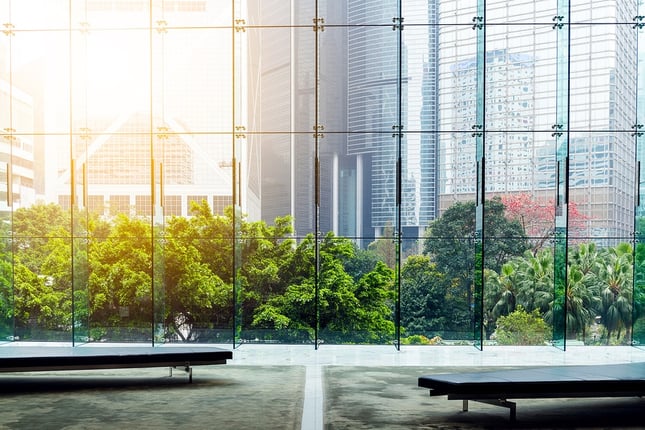 See Your Building Through A Fresh Set of Eyes
Try walking into your building the way a visitor does. As you come through the entrance, try looking at everything with a fresh set of eyes. Sit where your customers or visitors sit and look around. What do you notice? So often, we get so used to our facilities that we don't even notice things that might need cleaning, repair or replacement. When we ask Facility Managers to do this, quite often one of the things they notice is that their carpets could use a little help. And it's no wonder, office carpets can see hundreds of feet each and every day. It isn't unusual that they take a beating. And yet, dirty carpeting can leave an unfavorable first impression. Dull carpets, noticeable stains and spots or visible wear patterns can make an otherwise well maintained building look older, dirtier and even create negative impressions about your products or services that just aren't accurate. The best facility managers look at their buildings with the eyes of a visitor and work hard to make sure their facility creates the most favorable impression possible to everyone who steps foot in it.
Prolong the Life of This Costly Building Asset With Carpet Care
Carpet and flooring are costly building assets. When you have invested heavily in your office flooring, you want to get the full lifespan of this asset if not more. Carpeting is wonderful in a building, it can improve air quality by trapping particulate matter, dampen sound, look very chic and even is easier on feet. But office carpeting can take a beating and periodic carpet cleaning can make a huge difference in how long your office carpets last and how good your building looks. The right Detroit carpet cleaning company can help you keep your facility looking sharp and even maximizing your investment in office carpet with regular commercial carpet cleaning and maintenance. Commercial carpet cleaning prices might keep you from wanting to spend the money on maintenance, but many office carpet warranties require that you clean carpets regularly, typically every twelve months. A small investemnt in carpets can go a long way in protecting this expensive to replace asset.
Improve Indoor Air Quality With a Carpet Maintenance Program
Not everyone is aware of it but periodic office carpet cleaning improves indoor air quality. Carpet acts like a giant filter trapping a variety of indoor air pollutants. According to the EPA, indoor air pollution is among the top five environmental risks to the public health. Office carpeting can work like a filter, collecting and trapping dust and particulate matter and preventing them from hanging in the air within your facility. Eventually carpets can become filled with dirt and other pollutants and will cease to work efficiently, much like an overused furnace filter. In order to do this effective, carpets must be well maintained and regularly cleaned. Periodic carpet cleaning not only keeps carpets looking their best and protects your asset, it can even help you maintain better indoor air quality and a healthy work environment.
Set the Tone For Professionalism With Employees With A Clean, Healthy Workplace
A clean and well maintained workplace sets a tone of professionalism in your facility, and this includes carpeting. If employees or tenants believe you are taking shortcuts on keeping their workplace clean and maintained, this sense of mediocrity can carry over into their own work. A clean workspace can improve moral, set high expectations and even improve productivity. Likewise, a clean and healthy work place helps minimize illness and even can help relieve some of the discomfort of those employees suffering from allergies.
Let Us Help You
Whether you are in search of industrial carpet cleaning, office carpet cleaning or general commercial carpet cleaning services, we can help. Here at Stathakis, we offer state-of-the-art carpet cleaning and maintenance solutions that are fine tuned to the needs of your facility. We are also CIMS certified in order to offer our customers the industry best practices that lead to the most effective services. Need a free quote or more information on our carpet maintenance programs and on-demand carpet cleaning, fill out the convenient form in the upper right hand corner. With recognized carpet cleaning systems including truck mounted carpet cleaning, portable machine carpet cleaning, low moisture carpet cleaning, dry carpet cleaning all created to provide you with a deep clean, improve your carpet's appearance, extend the life span of carpets and even improve indoor air quality. Get on-demand carpet cleaning or one of our subscription based carpet cleaning programs to help you plan ahead and save money. For more details on how you can get carpets cleaner than they have ever been, please contact Matt Brown, Stathakis Special Projects Manager at #800-278-1884.