Carpet Spotting Service
Nothing makes a room look worse than a large unsightly carpet stain, which is why Stathakis offers it's customers carpet spotting services in addition to full commercial carpet cleaning.
Our dedicated, professional carpet services team utilizes the most current chemicals and carpet care technology to ensure total spot removal and minimize any future re-soiling of the spot.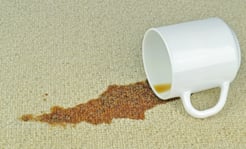 Stathakis utilizes industry-leading carpet spotting technology that allows for total stain encapsulation and removal. We utilize both steam cleaning and low moisture carpet cleaning systems, which means that your plan of service is based off of what is best for your facility.
Stathakis has carpet cleaning technology optimal for spotting small to medium sized stains included in floor care plans and carpet appearance management programs for:
office carpet cleaning (coffee stains)
school carpet cleaning (marker and food stains)
industrial carpet cleaning (grease stains)
medical carpet cleaning (bodily fluid stains)
If your building has unsightly carpet spots that need removal, contact Stathakis today for a free estimate by our expert sales team.