Housekeeping Services in Detroit
What Does Housekeeping Actually Refer To?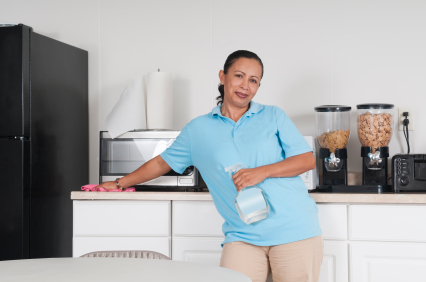 Housekeeping is a word that has different meanings for different businesses. You can have a family home housekeeper or even call housekeeping during a hotel stay. Many people also refer to housekeeping as a facility's day time cleaning team or day porter services, in contrast to cleaners who work in the evening when a business is closed. A day Porter is a position largely defined by your needs. Housekeeping, day cleaning and day porter services can include many different elements including:
Lobby maintenance

Cleaning common areas (like kitchens, cafeterias and patios)

Monitoring and servicing restrooms

Removing trash and debris

Restroom Restocking & Refreshing

Meeting setup/teardown
The Best Housekeeping Right Here in Michigan
Stathakis has served Southeastern Michigan for more than 35 years. We have years of hands-on experience learning how to deliver the best in value-driven housekeeping, day porter and facility services to our Michigan neighboring businesses. We have provided housekeeping and other building maintenance to diverse businesses all across Southeastern Michigan.
We offer customers the highest level of housekeeping services, but unlike gigantic and often faceless housekeeping companies, at Stathakis, we live, work and raise our families in the same neighborhoods we do business in. This makes us more responsive and connected to the communities we work in and helps form real relationships with both our local customers and our valued employees.
Southeastern Michigan Count on Stathakis For Housekeeping
Our goal has always been to make our customers' lives easier, and we are very good at what we do. There's much more to housekeeping services than mops & window cleaner. We're not in the mop business; we're in the service business. Our success as a facility services contractor is built on how well our customers think we deliver on our promises to them.
We offer customers a complete range of housekeeping solutions based on their individual needs. And yes, we even offer new cleaning technologies and green cleaning products and practices that take our cleaning to the next level. But more importantly, what makes Stathakis so different from other housekeeping and cleaning companies is our people and our customer responsiveness.
With Stathakis, we support our promise of service with systems and procedures that work. The companies and Facility Managers we work with get real value for their dollar and a true partner in keeping their facilities clean and running smoothly.
What systems do we utilize to best serve you?
Transparency in business practices
We Take Care Of Our People So They Take Care Of You
Because housekeeping and day porter employees are often in your building during business hours, it is critical that they can interact on a professional level. The people that make up our housekeeping teams and day porter services are amazing. We find great people and then give them the kind of training, management and support to do their jobs well.
At Stathakis, we understand that success in the building services industry depends entirely on the quality of our team. That's why we put so much of our energy into attracting the best people, training them comprehensively, compensating them fairly and rewarding individual and team excellence.
All of our employees have gone through extensive interviews, drug testing, police background checks, personality testing and reference checks to insure that the best people attend to the housekeeping in your facilities. We protect your reputation and ours by never hiring illegally. We insist on a formalized training program for a systematized cleaning processes and our employees receive added certification in any specific areas that might relate to your facility. Our uniformed, highly-trained team works with the best cleaning products and equipment. Excellence on the job is reinforced with inspections and detailed record keeping that helps deliver consistent housekeeping services.
We Offer the Flexibility To Meet Your Needs Both Big & Small
At Stathakis, we offer a single source provider for a variety of housekeeping, office cleaning and other cleaning needs including janitorial, painting, building maintenance, specialty floor care, lighting maintenance, construction cleaning and more. With more than 400 full-time and part-time employees and coverage all over Southeastern Michigan, Stathakis is big enough to tackle big jobs but small enough that you know exactly who you can call to get answers to your questions or issues the very same day .
At Stathakis, we deliver many of the benefits of a larger commercial cleaning operation with the feel of the owner-operated business we started out as more than thirty years ago. We will deliver the value-based, budget-conscious housekeeping services you need.
Some of the services we specialize in include:
Hard surface floor care

Window cleaning

Upholstery cleaning

Computer room cleaning

Recycling services
The Housekeeping Services You Need Within Your Budget
If you are looking for affordable Michigan housekeeping services, look no further. We work with customers to uncover exactly what needs to be done and our pricing is based directly upon those services. We know the demands placed on you to keep costs down and hold budgets. We will help you reduce unnecessary housekeeping costs while we insure that your cleaning specification will keep your facilities running smoothly. With our Open Book Pricing, you can be confident you are getting the maximum return on your housekeeping dollar.
Contact Stathakis today at (800)278-1884 so we can assist you in designing a Housekeeping Program that meets your individual needs.
We also offer comprehensive cleaning services. Whatever type of cleaning or housekeeping services you require in your facility, Stathakis can deliver.
Stathakis can create a custom housekeeping program that best suits your needs, as often as daily and as little as once a month. Services include: