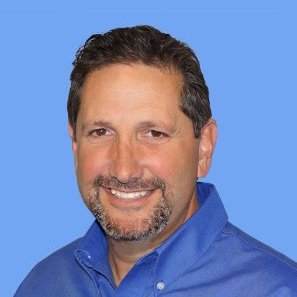 It's no accident that Brian Mamo ended up at Stathakis. In fact, as CEO Chris Stathakis tells us, "It was only a 22 year courting process to get Brian to join our team!" Chris Stathakis was one of Brian's banking clients and had the opportunity to experience his passion and honesty first hand. This relationship ultimately led to inviting Brian to lead the Sales and Business Administration teams at Stathakis.
So when Brian Mamo joined Stathakis five years ago, he brought with him more than twenty years of customer service expertise in the business banking world. His strength has always been in developing partnerships with clients to earn their trust, giving him the opportunity to work closely inside their businesses. Today Brian practices his problem solving philosophy at Stathakis where he is providing Building Service solutions for clients to foster healthy and clean work environments.
We sat down with Brian recently to ask him to comment on some of the changes the industry and commercial cleaning has seen over the last few years, reflect on Stathakis and his role in the company's growth and give our Stathakis customers a chance to get to know a little more about him.
Brian was born and raised in Dearborn Heights, Michigan and now resides in Farmington Hills with his wife Laurie and their four children: Evan, Erica, Ryan and Carson. Brian graduated with a Business degree from the University of Michigan. As Director of New Business Development at Stathakis, Brian is responsible for building new client relationships, something he takes very seriously. When asked what he believes is the most critical element of bringing on a new customer, Brian said, "Solve their problems. I have always been more interested in solving client problems than selling them something. Working on the Stathakis team, I have been given the tools to do exactly that."
Brian spreads most of his work day between his Stathakis team and prospective customers. As he tells us, "I like meeting with new customers and customers who are considering letting us help them. It is talking with people face to face that I can really find out how we can best help them. I'm always up for submitting a cleaning bid or getting a proposal out to someone, but getting face to face and really digging into what an individual Facility Manager needs? That's our chance to turn things around for them. The more time we spend talking to the people who need us most, the better we can customize what we offer. I think that's what makes us different."
When asked about what kind of things are in place at Stathakis to help support Brian and his team, he told us," I would say what is often the deciding factor between us and another janitorial company is our technology. With our proprietary QualityChex app and other programs like Salesforce, Kwantec and TEAM, we have the systems in place to deliver on our promises to the customer. Most of us in this business want to do the things we say we will, here at Stathakis, we do just that. We use technology to create reliability through accountability."
Brian also cited Stathakis' CIMS Certification as another huge advantage. "CIMS means we've already jumped through some pretty challenging hoops to prove we are pros and many of our customers and prospective customers know this. At Stathakis, we are committed to doing whatever it takes to be better, faster, more affordable, more responsive and I think that healthy competition between those companies really operating at the highest level drives everyone in our industry to get better."
Brian tells us that he feels really passionate about helping Stathakis grow. "I love having so much responsibility for the growth of the company. Growing the company provides jobs to people and allows employees to expand their horizons in the company. Being a part of that is great."
When asked what he think are some of the biggest issues facing Facility Managers right now, Brian told us, "Facility Managers are faced with decreasing budgets while maintaining or increasing the cleanliness of their facilities. They spend way too much time on complaints from their employees and most of the Facility Managers I've spoken with would like for their cleaning companies to do an effective job caring for their facilities so as to avoid internal complaints. We asked Brian how he helps Facility Managers address their biggest issues. Brian said, "We work with them to come up with a plan that meets their budget and their needs. Then we manage that cleaning program effectively so they will not get complaints. This makes their lives easier, it's that simple. Or for example, we had one customer that was hiring in-house cleaners. Now that's really tough because it's essentially doing two jobs, yours and mine. She did it for about six months and she just could not handle the call offs, turnover and the time it too to manage the staff. We won the bid, provide a great service to her and now she is free to focus on her day to day work and other important issues."
While Brian has noticed a trend toward thinner margins and lower prices, he has witnessed many companies going back to the drawing board after contracting with the cheapest bid only to realize the value was missing. "Look, everyone wants a good deal, I think that's human nature and the reality of business. Still, sometimes cheap is poor and there are certainly instances where paying just a little bit more gets you so much. I want to give someone a price that fits their needs but not at the expense of being able to do what I have promised. Cut the price too much and most janitorial companies will either do less or try to tack on added charges to recover their costs. I'd rather be up front about costs from the beginning than spring it on someone later."
Stathakis has grown from a small business run out of a garage to a large building services contractor employing nearly 500 people. We probed Brian about challenges and advantages that go hand in hand with a large, professional organization like Stathakis. He had this to say, "Like any service business I'm guessing, we have to really work at finding the right people for the jobs. Many of our employees are working a second job at night. The margins are tight in our industry, labor accounts for 70% of our costs and that can keep wages low. Still, finding good people is critical and it's where we spend a great deal of our time because the right fit means more effective service, which we then support with systems that hold all of us, from the top down, accountable. As far as advantages? Being a larger company allows us to partner with larger companies. We have the ability to hire quicker, order more equipment and quickly help our operations department get their plans in place. We couldn't do that if we weren't so well-resourced."
When asked what sets Stathakis apart from other companies in the same industry, Brian responded, "We are different because of the technology we use, especially with QualityChex inspections. Our CIMS Certification is huge especially with the automotive and manufacturing industry. Our professional sales approach and our professional operations approach, Facility Managers can see we operate at a whole other level."
When asked what advice he would give to a Facilities Manager about to embark on the search for a new cleaning company, Brian had this to say, "Ask them how they came up with their costs. How many cleaners? How many hours? Who will be supervising? Who will my contact be? Do they have an inspection program? Are they CIMS certified? How long is the contract? Is there a 30 day out clause? What chemicals do they use? What type of equipment and is it new or used? What is the cleaning program? Do they have a rag system? Any commercial cleaning company that has taken the time to professionalize how they run and conduct business will be happy to tell you and show you."
Outside of work, Brian likes to coach and play sports with his kids. "It helps me stay in shape mentally and physically." He looks for opportunities to spend time with his family and friends and enjoys traveling. Of course, as a graduate of the University of Michigan, he cheers for the University of Michigan and the home teams. On a final note, Brian told us, "I believe humor is still very good medicine. We as a society are getting too stressed out and every minute of every day is filled with challenges. We need to remember to have fun and keep in mind that things are probably not as important as we think."
While finding the right industrial and manufacturing cleaning company can consist of weeding through the good the bad and the ugly, with the right information and planning, you can find the right company at the right price. Stathakis operates right here in South Eastern Michigan delivering first-rate commercial industrial cleaning and maintenance services to our neighboring businesses. We are the largest Michigan-based janitorial service, building maintenance and painting services company, providing a single source for all your industrial and manufacturing facility services. We understand what is most important to you: compliance, safety and value.
Our business is specifically designed to address the #1 concern of today's building and facility managers by balancing high quality work with the fiscal reality of tight budgets. A professional, well-executed job paired with above-board business practices are some of the reasons that the average Stathakis customer has been with us for over 7 years - unheard of in our industry. We are CIMS-GB certified, the equivalent to ISO and other certifications, in order to offer you the best service at the best value.
If you want the best services for your plant, factory or facility delivered with value and responsiveness, please contact us and we can work with you to put together a clear, straightforward, workable plan for your individual facility. To get started putting together an effective industrial cleaning plan with Stathakis, please contact Brian Mamo toll free at 1-800-278-1884.