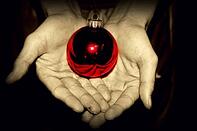 The Flu season is here once again, just in time for the holidays. However, by keeping your hands clean and with a little luck you can keep yourself healthy, even when others around you are sick. So here are some quick facts to keep that box of tissues far away this holiday season and beyond. Considering that 80% of all infectious diseases are passed by human contact, washing your hands is the best first line of defense against germs.
WASH YOUR HANDS
The Center for Disease Control recommends the following steps in washing your hands correctly:
Wet your hands with clean, running water (warm or cold) and apply soap.
Rub your hands together to make a lather and scrub them well; be sure to scrub the backs of your hands, between your fingers, and under your nails.
Continue rubbing your hands for at least 20 seconds. Need a timer? Hum the "Happy Birthday" song from beginning to end twice.
Rinse your hands well under running water.
Dry your hands using a clean towel or air dry them.
HAND SANITIZERS
We all have been is situations where soap and water is not available to wash our hands. A good backup plan is an alcohol-based hand sanitizer that contains at least 60% alcohol. However, while alcohol-based hand sanitizers are a quick fix for reducing the number of germs on hands, they do not eliminate all types of germs. Moreover, hand sanitizers are not effective when hands are visibly dirty.
Your facility's health starts with good hand hygiene that will prevent the spread of sickness in your workplace. Some viruses and bacteria can live up to 48 hours or longer on surfaces like cafeteria tables, doorknobs, keyboards and desks. We are victims of what we touch so be careful to avoid touching your eyes, nose, or mouth while at work and make sure to wash your hands often.
Stathakis is dedicated to providing our clients with a safe and healthy work environment. If you need help improving the health of your facility please visit the H1N1 Swine Flu Cleaning section of our website or call us at (800) 278-1884.